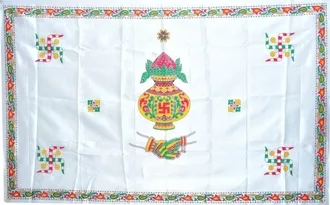 Creative Addutera Addu Tera Designs for Your Dream Wedding
Addutera is also called as teracella, in English it is known as Antharpat ,This  is used at the time of kanyadanam ceremony  in which girls family hands over their daughter responsibility to the groom, until the completion of this ceremony both bride and groom are not allowed to see each other and separated by an Addutera that is placed between them as a partition after bride parents wash the feet of groom as groom  is treated as Lord Vishnu who has came to marry their daughter who is considered as Lakshmi Devi.
This is the Raw silk addutera measured in 6×4 size with a beautiful color combination with peacocks and Sita ram sitting, colour combination giving a more elegant look throughout the of kanyadaan ceremony.
In pure fabric addutera, it is one of the trendy models with middle gold raw silk patch with Sitaram print which separates the bride and groom and rounds up with organza see through fabric giving a funky look to their wedding.
Experience the beauty and elegance of Addutera, also known as Antharpat or Teracella. Our Raw silk and pure fabric Adduteras, adorned with peacock and Sita Ram designs, bring a touch of tradition to your Kanyadan ceremony. Let Vizag Pelli Poola Jada create the perfect Addutera for your special day.