A wedding is a special time filled with love and joy. The haldi ceremony is one of the happiest parts of an Indian wedding. It's when the bride and groom get smeared with turmeric paste, symbolizing purity and happiness.
To make this event even more special, many brides choose to wear flower jewelry for Haldi. It's simple, and elegant, and adds a lovely touch to the haldi ceremony. In this article, we'll share some easy flower jewelry ideas that any bride can use. These ideas are not just beautiful; they're also comfortable to wear. 
Let's explore these simple yet stunning floral jewelry options for the bride's haldi ceremony.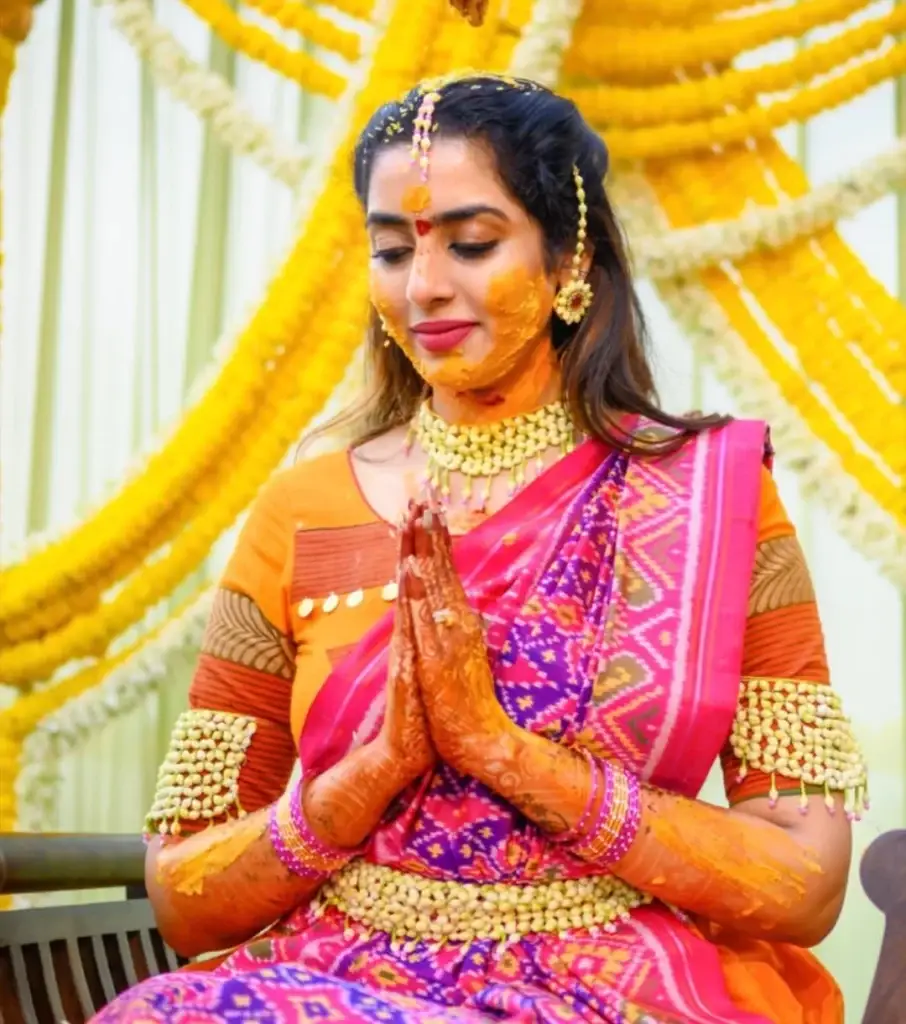 Significance of Haldi ceremony
Indian marriages are not complete without the haldi ceremony, sometimes referred to as pithi or haldi rasam. It is a pre-wedding rite that is observed in different parts of India according to diverse customs and traditions. The bride and husband are traditionally covered in a paste composed of sandalwood, turmeric, and other natural substances throughout the ritual.
The spiritual and cultural components of the Haldi ceremony are what gives it its significance. Applying turmeric to the bride and groom is thought to purify and prepare them for their new life together because of its healing and cleansing characteristics. Additionally, it is believed to give them a natural glow, increasing their appearance on the wedding day.
Easy flower jewelry ideas for haldi ceremony for bride
Maang Tikka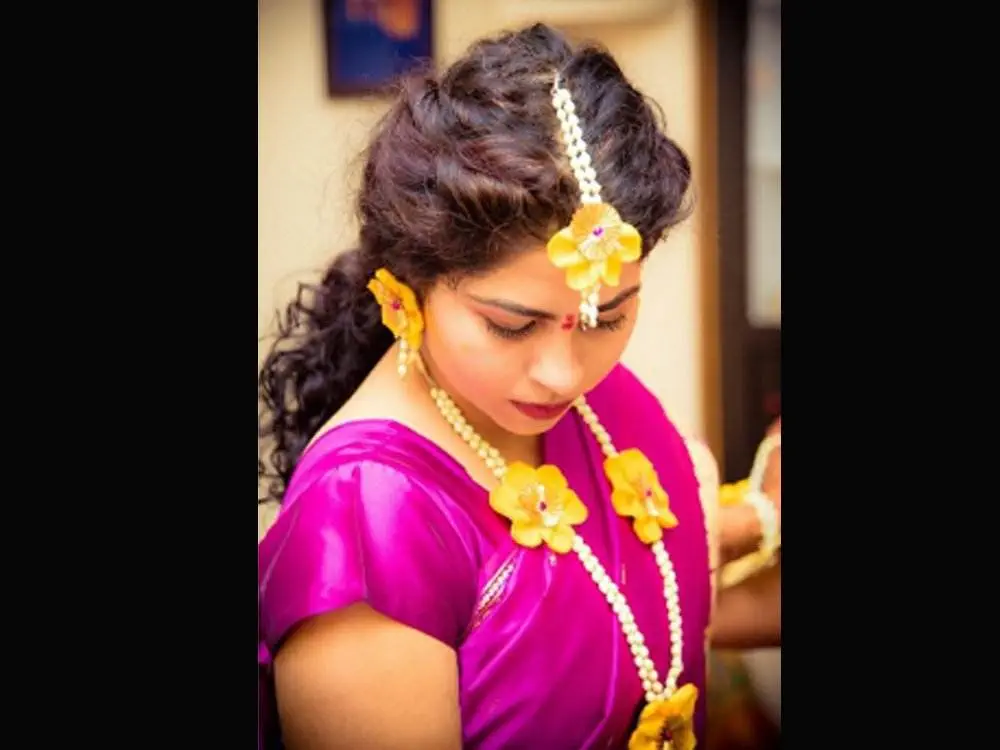 For the haldi ritual, flowers can be creatively sculpted into maang tikkas, a traditional Indian forehead ornament. It's a tasteful piece of jewelry that highlights the bride's forehead and enhances her entire appearance. Flowers can be used to create maang tikkas that are light and comfortable to wear, assuring the bride's comfort during the event. For the maang tikka, think about choosing strong, colorful flowers like roses or sunflowers to make a stark contrast with the yellow turmeric paste used during the haldi ceremony.
Floral Kamarbandh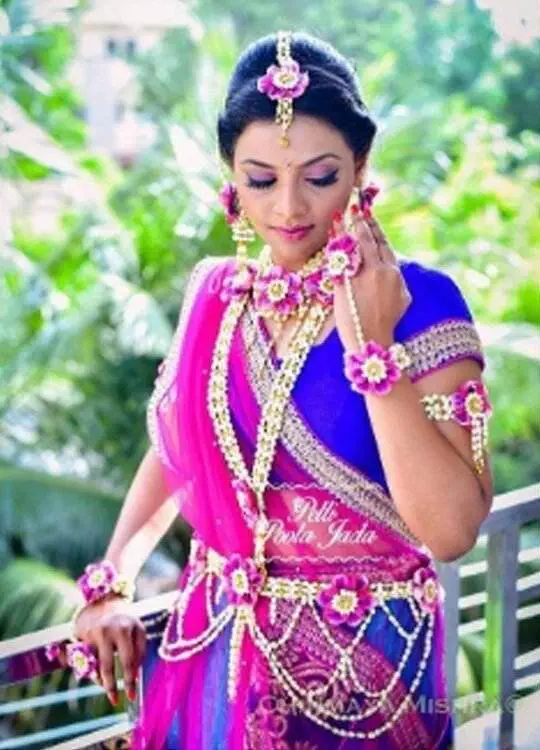 Another lovely floral jewelry for haldi ceremony is a flowery waistline, sometimes referred to as a kamarband. This item has cultural importance in Indian weddings in addition to adding a touch of floral beauty to the bride's waist. Flowers and leaves are arranged in a belt-like pattern to make a floral waistband. It can be knotted firmly around the waist of the bride to improve her beauty and signify the start of a new chapter in her life.
Bajuband and necklace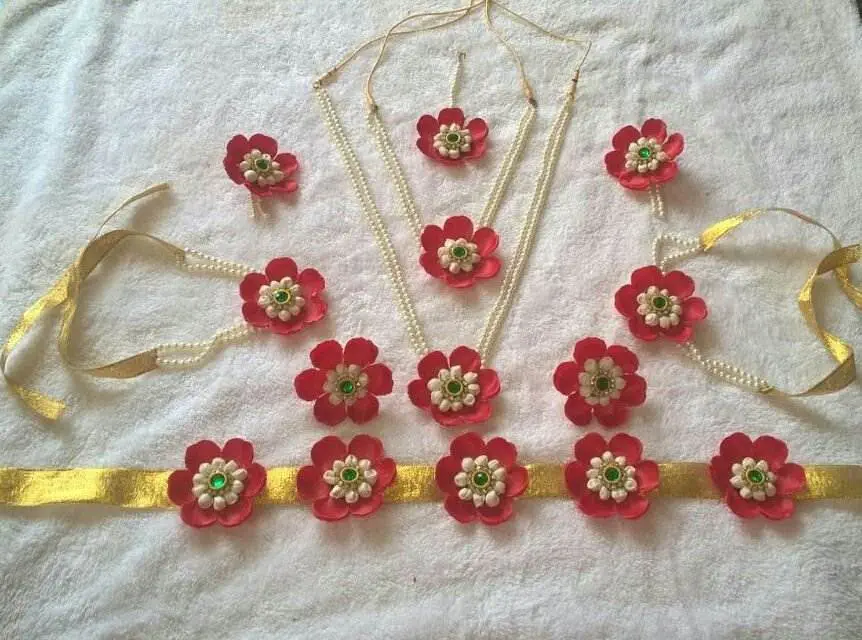 The bridal haldi ceremony clothing can be crowned with a floral necklace and armlet (bajuband). These floral accessories can be made by fusing colorful blooms and emerald leaves, giving the bride a youthful and dazzling image. The armlet can be worn comfortably on the bride's upper arm, and the flowering necklace can be made to sit gracefully around her neck, emphasizing her attractiveness.
Poolajada bun for hair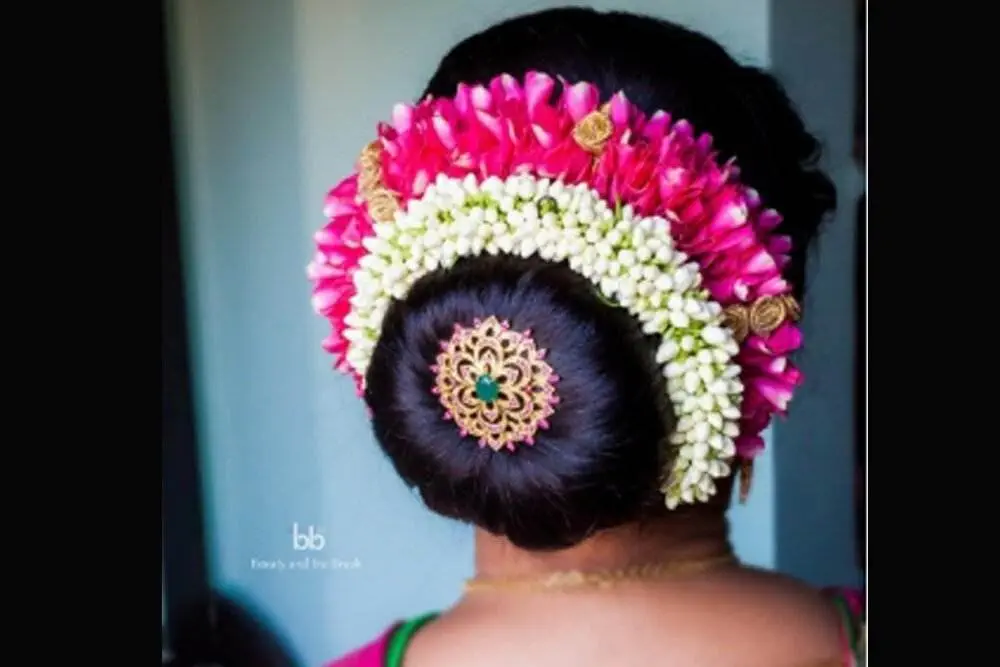 For many types of wedding rituals, floral hair accessories are a classic choice for brides, and the haldi ceremony is no exception. Different types of flowers and foliage can be used to make floral hair combs, pins, and bun decorations. You might use vibrant and vivacious flowers for the haldi ceremony, such as marigolds, gerbera daisies, or carnations. These floral hair pieces give the bride's hairstyle a lovely splash of color, enhancing her already gorgeous appearance.
Payal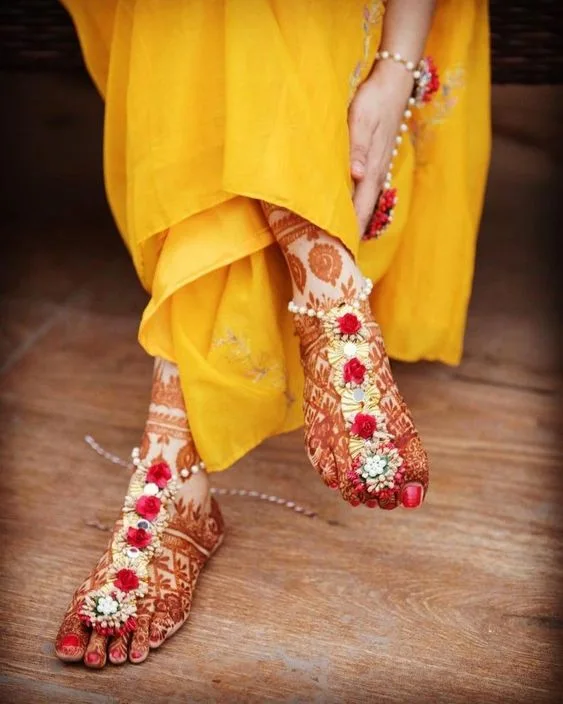 The bride's feet are also covered in turmeric paste during the Haldi ceremony in addition to her hands and face. Consider dressing the bride's feet in floral jewelry for Haldi ceremony to enhance this part of the ceremony. Payals, or floral anklets, can be created with tiny, lightweight flowers like daisies or jasmine. With the addition of these floral payals, the bride's feet will have a touch of floral elegance. They are simple to fasten around the bride's ankles with a soft ribbon or elastic band.
Floral hand jewelry
Floral hand jewelry, or floral haath phool, is a lovely way to adorn the hands of the bride with live flowers. Usually, little flowers like marigolds or orchids are used to make these delicate and detailed patterns. The haath phool can be altered to coordinate with the haldi ceremony's color scheme or the bride's outfit. You can create a beautiful and fragrant accessory for the bride's hands by combining flowers, green leaves, and baby's breath to produce a floral haath phool.
Floral noserings and earrings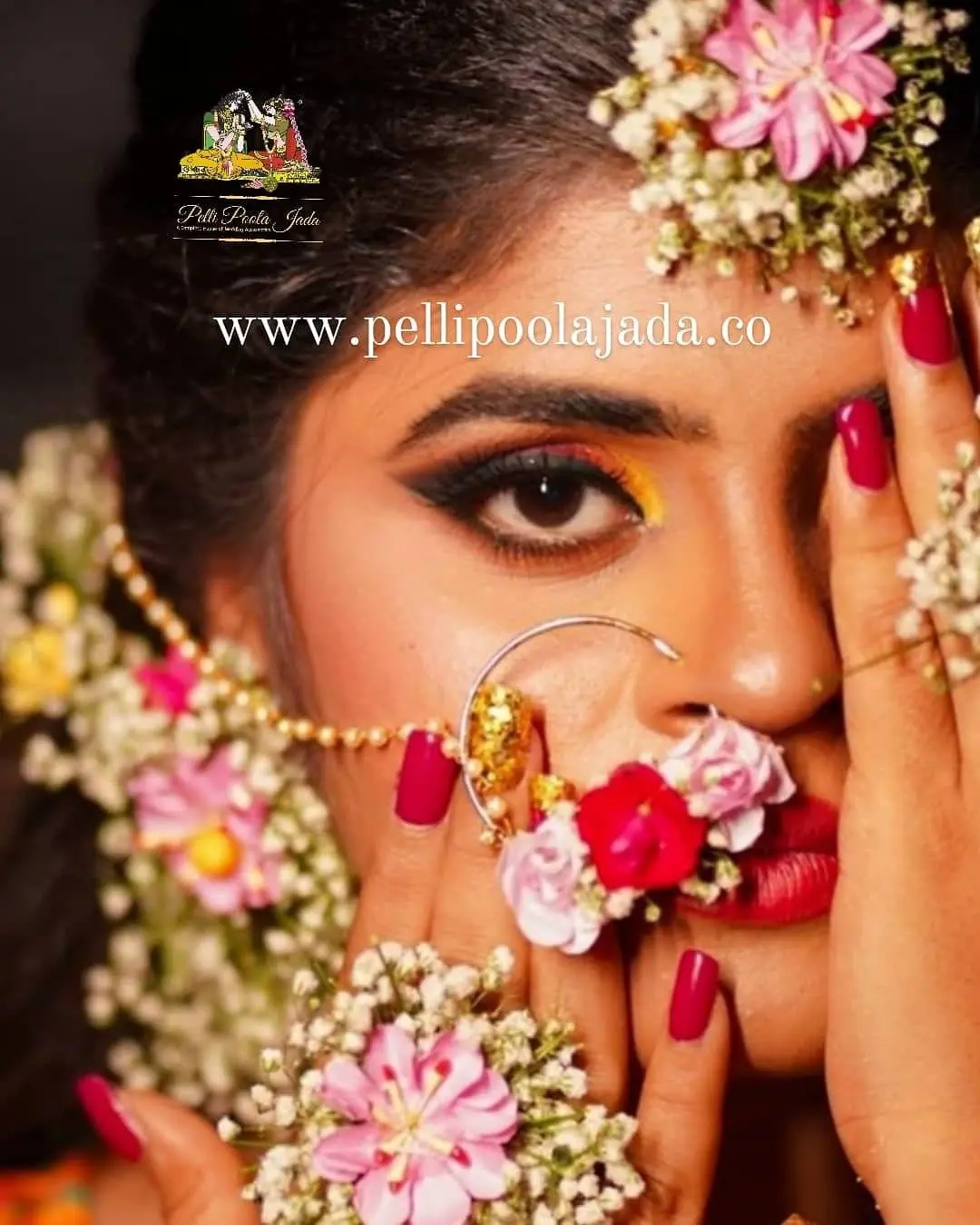 Create floral earrings and a nose ring to complete the bride's haldi attire. These ornaments can be created using tiny, light flowers and delicate greenery. Depending on the bride's request, the floral earrings can be made as studs or danglers.
A flowery nose ring, commonly referred to as a nath, gives the bride's appearance a special touch. It may be quickly fastened with a delicate clip and embellished with flowers that coordinate with her other floral jewelry.
Tips for creating and wearing floral jewelry
Selecting fresh and vibrant flowers is essential for creating stunning jewelry. Flowers that are at their peak bloom will not only look more beautiful but also last longer during the haldi ceremony.
It's important to create jewelry that is comfortable for the bride to wear throughout the haldi ceremony. The jewelry should be lightweight, easy to secure, and not cause any discomfort.
Having some extra flowers on hand can be helpful in case any of the jewelry pieces get damaged or if the bride wants to refresh her look during the ceremony.
It's essential to check whether the bride or any other participants in the haldi ceremony have allergies to certain flowers. If allergies are a concern, choose hypoallergenic flowers or consider opting for artificial flowers.

Preserving floral jewelry
Since jewelry is made from fresh flowers, it won't last forever. However, you can take steps to help preserve it for as long as possible:
Store in a Cool Place: Keep the flowers and jewelry in a cool and shaded place until it's time for the haldi ceremony. Exposure to heat can cause the flowers to wilt.
Mist with Water: Lightly mist the flower jewelry with water to keep the flowers fresh and vibrant. Be careful not to drench them, as this can cause the jewelry to become heavy and uncomfortable.
Use Floral Sealant: A floral sealant can be applied to the flowers to help preserve their freshness. You can find floral sealant sprays at many florist shops.
Handle with Care: When putting on and taking off the jewelry, handle it gently to avoid damaging the flowers.
Conclusion
Last but not least, the haldi ceremony is a colorful and cheerful pre-wedding rite, and the bride's wearing of floral jewelry accentuates its beauty and significance. There are many simple and original options for adding a touch of elegance to the bride's haldi look, like floral haath phool, maang tikkas, jewelry for feet, and more. The most important thing is to make sure the jewelry is at ease, suits the bride's outfit, and adheres to the overall theme of the haldi ceremony, whether you decide to make the flowers jewelry yourself or enlist the help of a professional florist.
FAQ
Are there specific flowers that work best for Haldi ceremony floral jewelry?
Flowers like marigolds, roses, orchids, daisies, and tuberoses work wonderfully for haldi ceremony floral jewelry. These flowers are vibrant, visually appealing, and readily available in various regions.
How can I ensure that my floral jewelry remains fresh throughout the Haldi ceremony?
To keep your floral jewelry fresh, store it in a cool, shaded place until the ceremony. Lightly mist the flowers with water to maintain their freshness, and handle the jewelry gently to avoid damaging the flowers.
What is the best way to coordinate my floral jewelry with my Haldi outfit?
Coordinate your floral jewelry with your haldi outfit by choosing flowers that match the color theme of your attire. This coordination will ensure that your floral jewelry complements your overall look.