When it comes to a bride's special day in India, the hairstyle she chooses is an important decision that reflects her culture and personal style. From beautiful braids to elegant buns, these hairstyles showcase the rich traditions and diversity of Indian weddings.
Today in this article we will look at the top 20 Indian Bridal Hairstyles for brides. Whether you're a bride, a bridesmaid, or just someone who appreciates the beauty of these styles this article is just for you.
So, let's take a journey through these stunning and versatile Indian bridal hairstyles.
How to take care of your Bridal Hairstyle on your wedding day
On your wedding day, taking care of your bridal hairstyle is crucial to ensure it stays beautiful from morning until the last dance. First and foremost, trust a professional hairstylist who specializes in bridal looks. Discuss your hairstyle well in advance, and consider a trial run to ensure it's perfect for your big day. On the wedding day itself, make sure your hair is clean and dry before the stylist begins. This provides a clean canvas for them to work on.
Once your bridal hairstyle is in place, be mindful of how you handle it. Avoid touching or constantly adjusting your hair, as this can disrupt the style. If you're wearing a veil or any accessories, have them securely attached by a professional to avoid mishaps. Finally, bring a small touch-up kit with extra pins, hairspray, and a small comb in case you need to make quick fixes throughout the day
20 Indian Bridal Hairstyles For Brides
1. Bridal Bun Hairstyle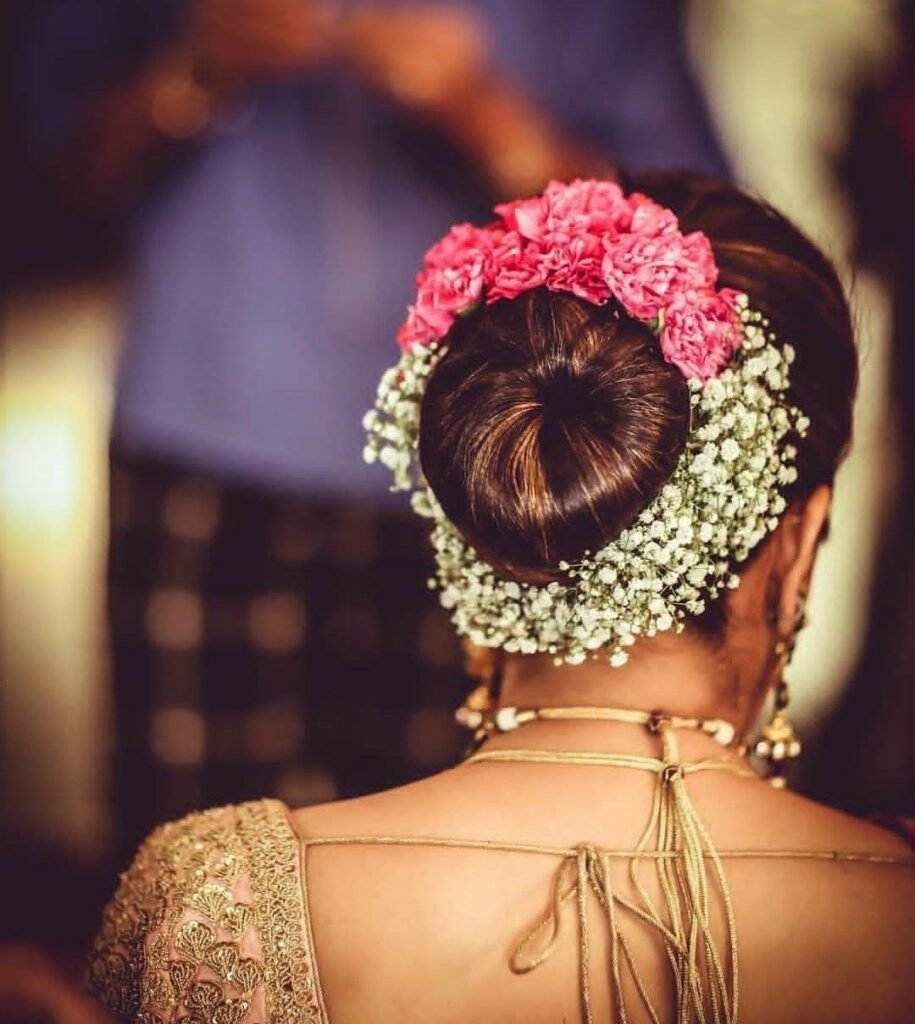 The Bridal Bun Hairstyle is a classic and timeless choice for Indian brides. This elegant and versatile hairstyle is popular across various regions and cultures in India, making it a go-to option for many. The Bridal Bun typically involves gathering the bride's hair at the nape of her neck and securing it into a neat and structured bun. It can be customized to suit different preferences and themes, from sleek and minimalistic buns to more elaborate and intricate styles.
2. Traditional South Indian Braid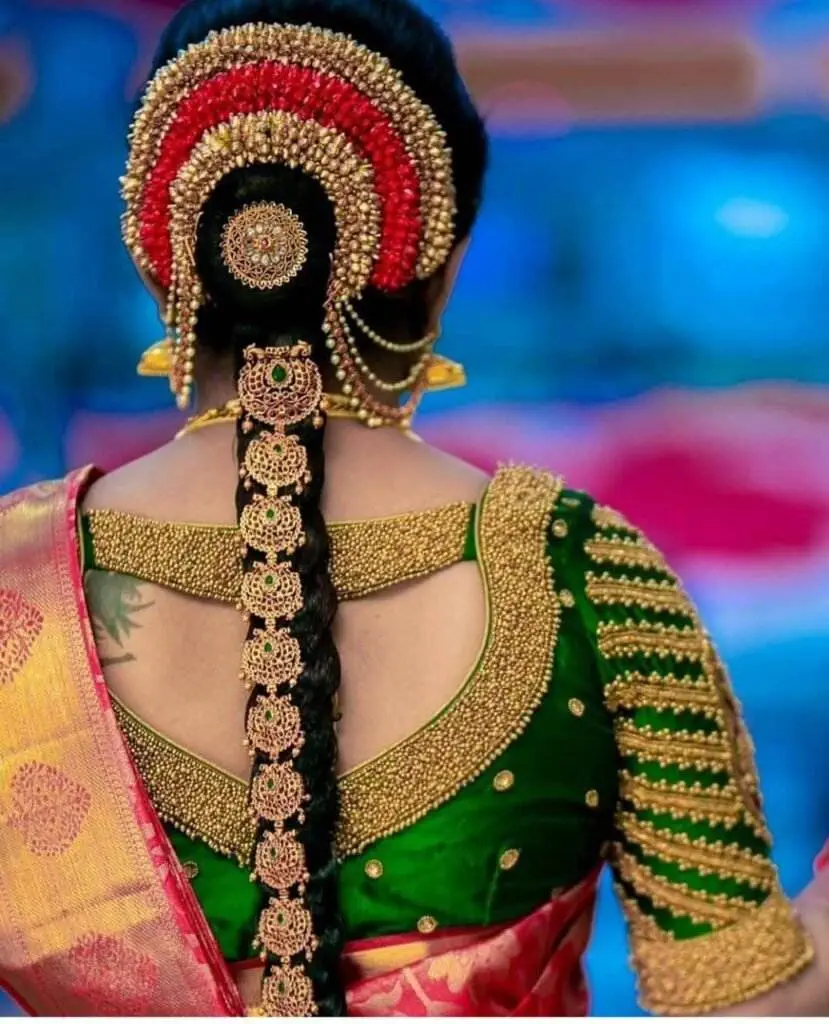 Deeply ingrained in South India's rich traditions, the Traditional South Indian Braid is a bridal hairstyle that is both ionic and culturally significant. This look highlights a bride's long, black hair's inherent attractiveness. South Indian brides usually grow their hair long and keep it perfectly styled since it is seen as a beauty and auspiciousness symbol. The braid itself is painstakingly braided from two or more strands, and to add to its charm and elegance, aromatic flowers like roses or jasmine are frequently included.
3. Flower Adorned Updo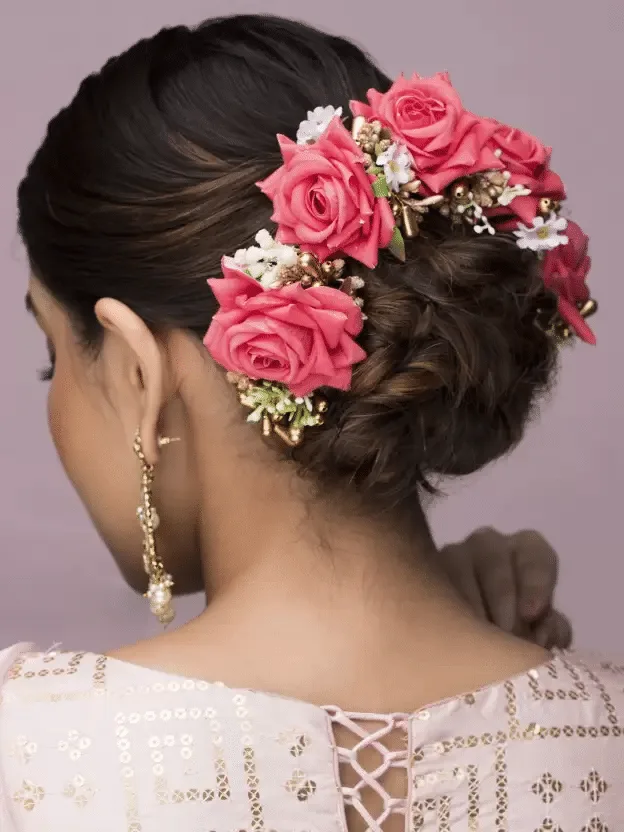 This style is ideal for brides who value a more organic and ethereal appearance because it lends a hint of nature's charm to the entire ensemble. The Flower Adorned Updo usually entails assembling the hair at the top or back of the head into an updo or bun. Depending on the bride's preferences, this updo can have a variety of styles, from a polished and tidy chignon to a slightly unkempt and bohemian bun.
4. Side-Swept Curls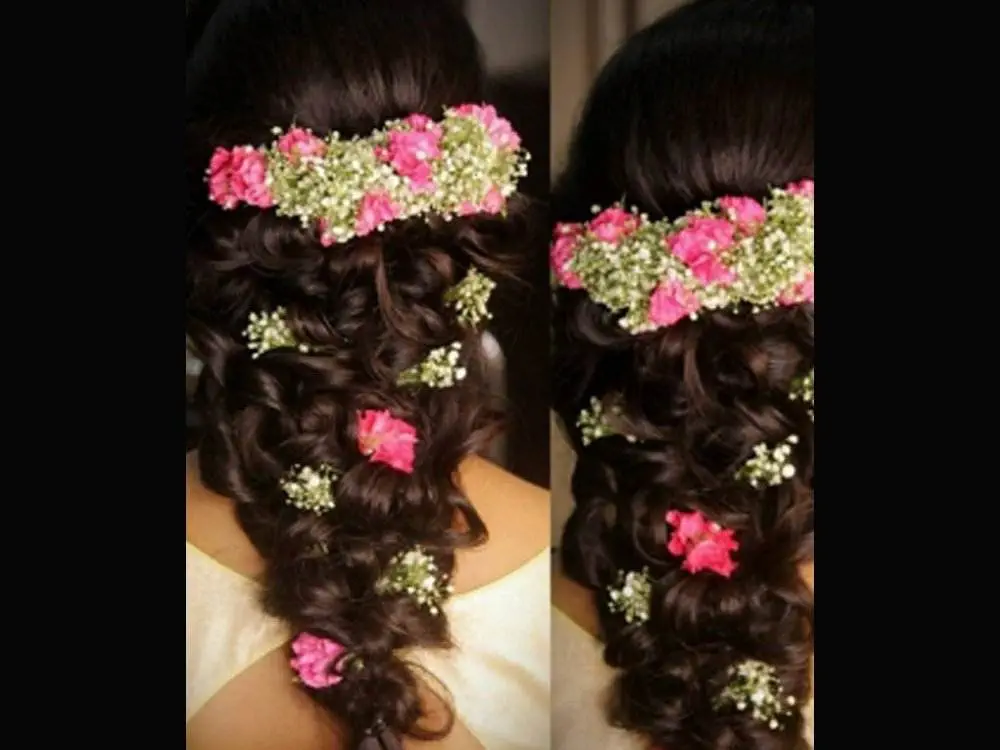 Usually, the hair is first curled with a curling iron or other styling products to create loose, voluminous waves, which is how the Side-Swept Curls are achieved. To create a soft, natural appearance, the curls are then delicately combed out. Bobby pins or other hair accessories are frequently used to elegantly sweep one side of the hair and bind it to the other. The bride's face is framed by the free curls that still hang down her shoulder, which adds a sophisticated and romantic touch.
5. Maharashtrian Peshwai Bun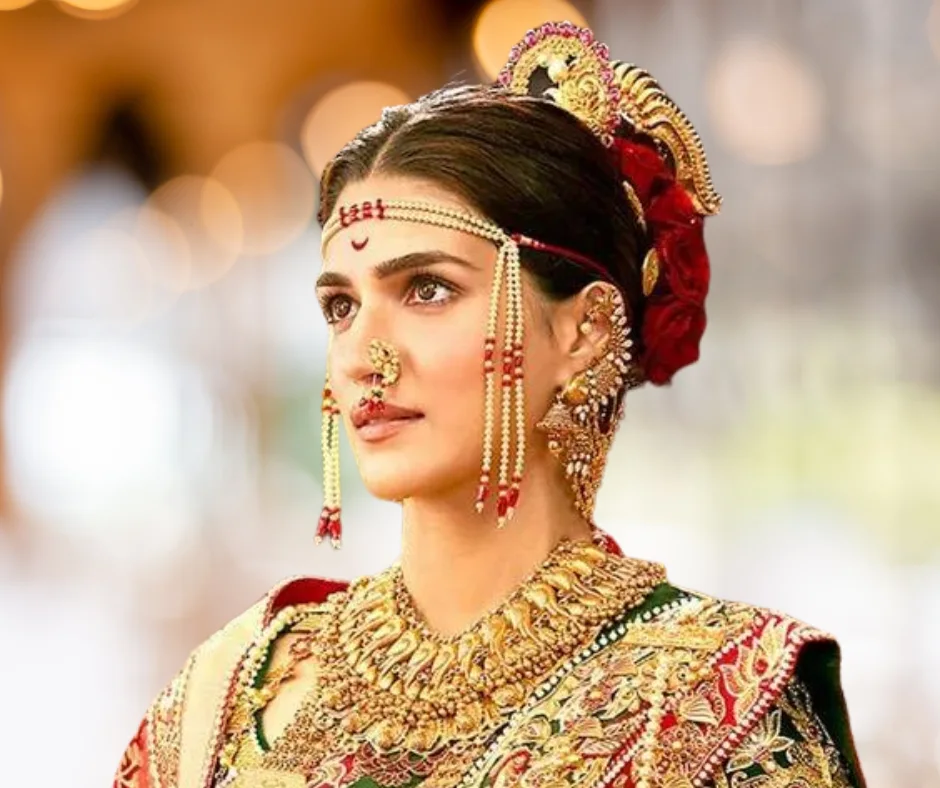 This hairstyle often involves creating a high, voluminous bun at the crown of the head. The bun is meticulously adorned with a plethora of traditional Marathi hair accessories, including 'vaki,' which are gold hairpins, and 'thaushi,' which are ornate bun covers. The 'mundavalya,' a string of pearls or flowers, is another essential element that is wrapped around the bun. Marathi brides often wear a 'nath' (nose ring) to complement the Peshwai Bun, which is symbolic of their marital status.
6. Bengali Bridal Braid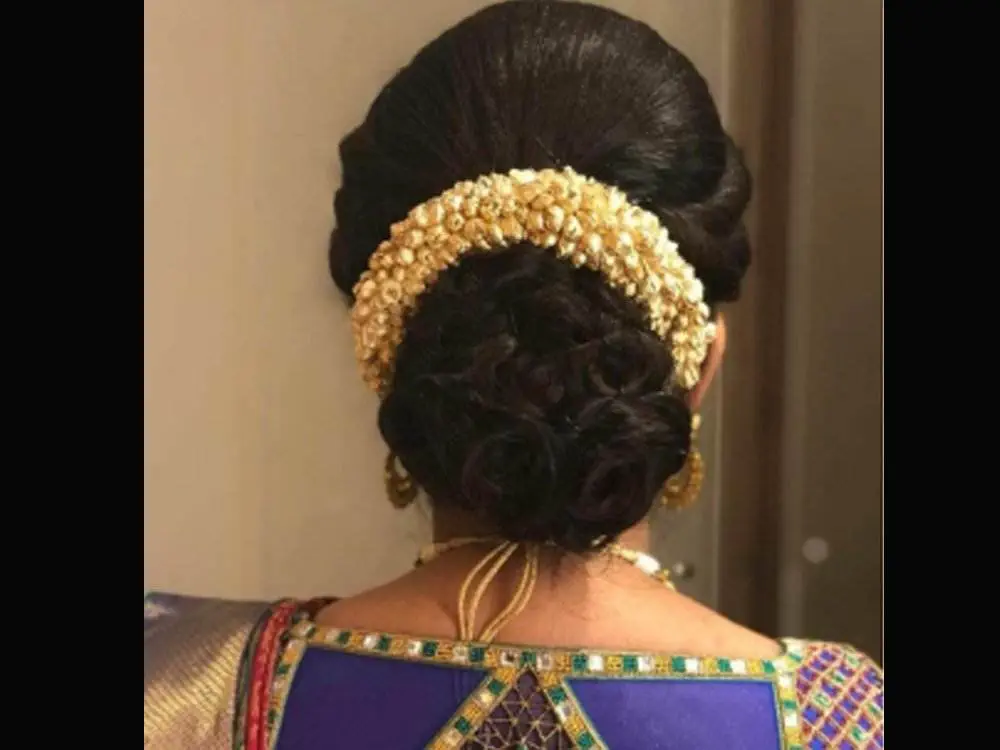 Originating in the Indian state of West Bengal, the Bengali Bridal Braid is a famous and culturally rich bridal hairstyle. Known as "Shad" or "Biye," it is a highly significant aspect of Bengali weddings and is engrained in the culture. Bengali bridal braids are renowned for their elaborate and beautiful styling, which highlights the bride's inherent beauty and honors West Bengali cultural customs.
7. Bridal Braid with Borla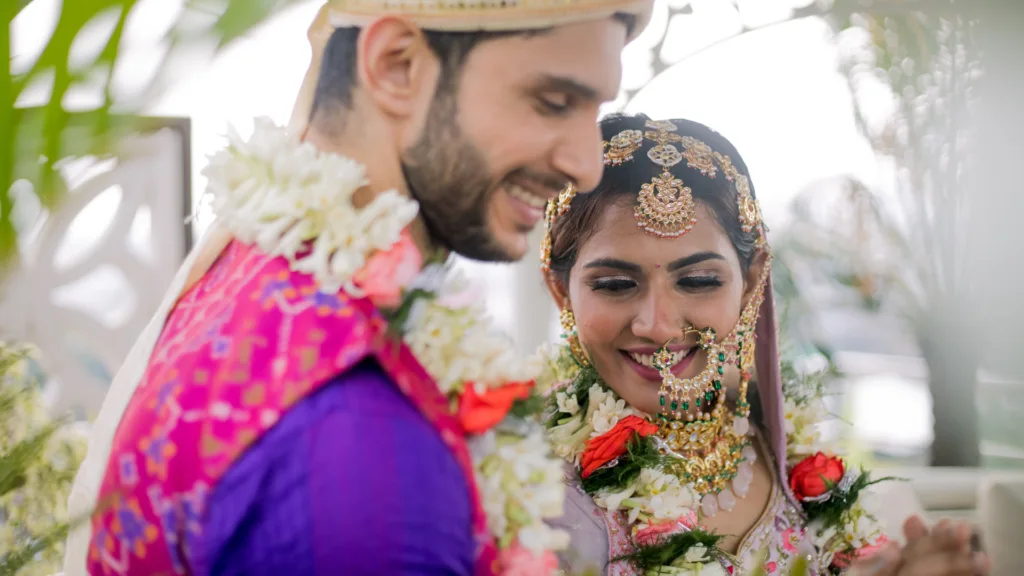 The Bridal Braid with Borla creates an intricate and appealing design by incorporating the Borla within the braid itself. The bride's hair is first arranged into a long, flowing braid in order to get this effect. The braid is painstakingly embellished with traditional jewelry and hairpieces from Rajasthan, including elaborate hairpins, Kundan or jadau work, and, most notably, the Borla. The Borla is a statement piece that highlights the bride's forehead; it usually has elaborate designs and is frequently set with priceless gemstones.
8. Gajra and Rose Bun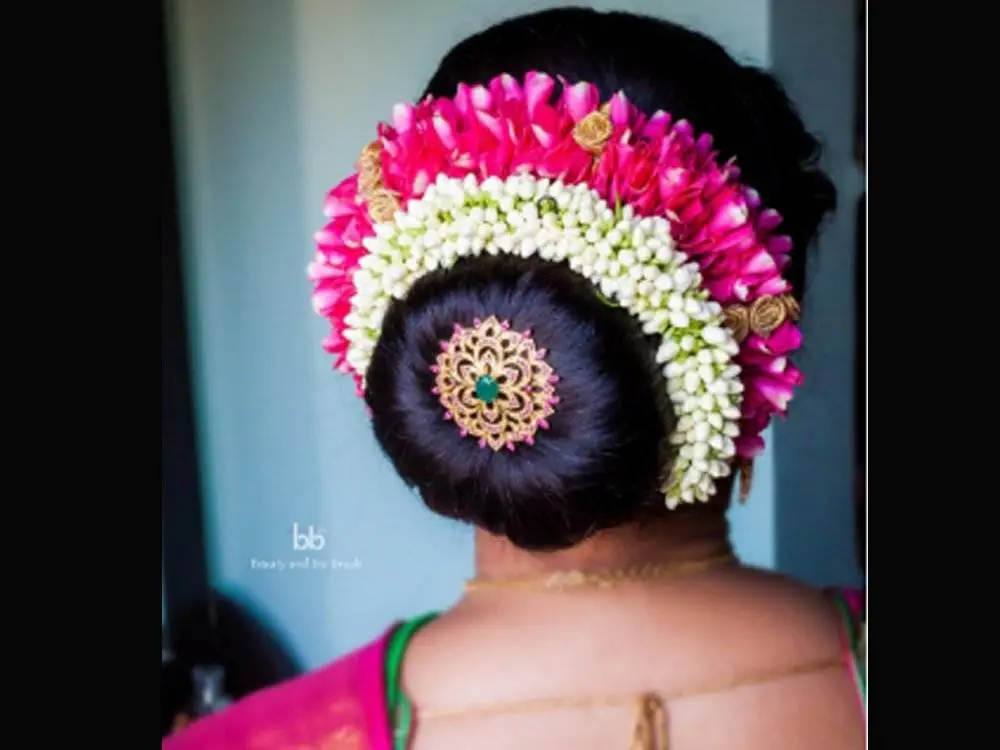 The Gajra and Rose Bun is a classic and timeless Indian bridal hairstyle that combines natural beauty and traditional elegance. This style is particularly popular among brides who wish to adorn their hair with fragrant and vibrant flowers, enhancing their overall bridal look. The Gajra and Rose Bun typically involves gathering the hair into a neat bun, either at the nape of the neck or atop the head.
9. Classic Chignon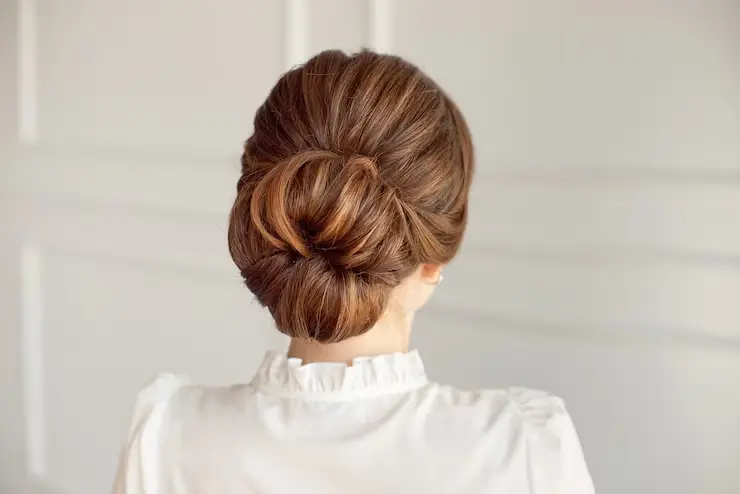 The bride's hair is usually pushed back neatly and the bun is expertly made in order to get the Classic Chignon. The size and form of this elegant and polished bun can vary, ranging from a modest chignon to a larger, more elaborate design. The subtle elegance of the Classic Chignon goes well with a variety of bridal looks, such as dresses, lehengas, and traditional sarees.
10. Vintage Waves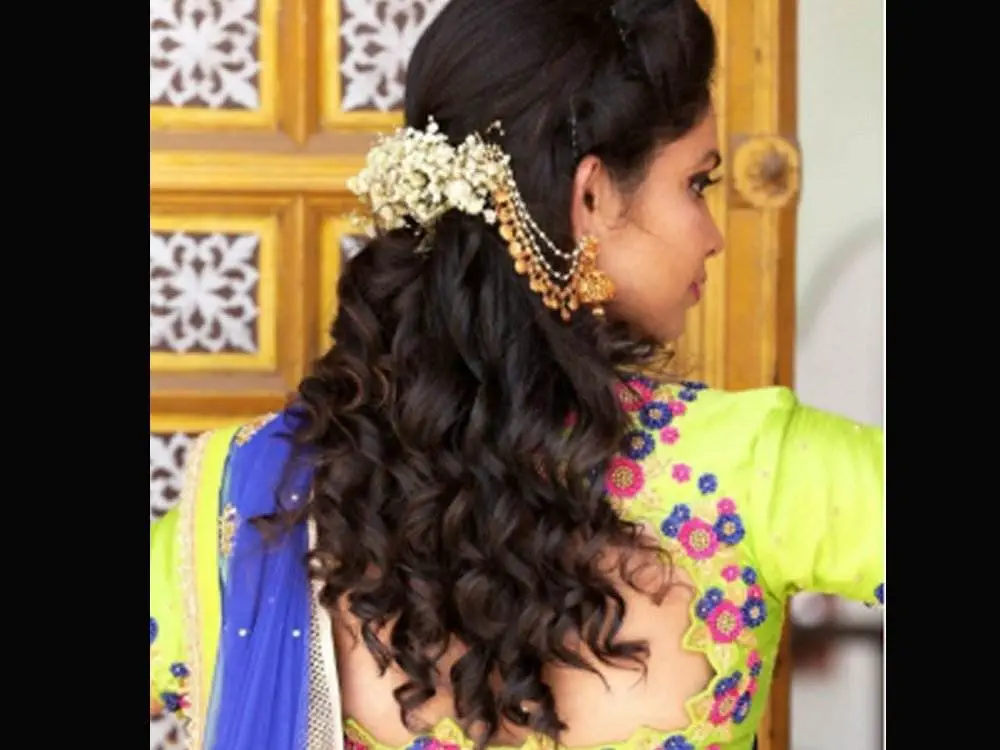 It is a popular option for brides who want to channel a timeless and classic look on their wedding day because it is adaptable and can be altered to numerous bridal fashions. These waves, which frame the face and cascade down the back, are frequently allowed to run freely. This hairstyle is adaptable to a variety of hair kinds and lengths, making it suitable for a broad spectrum of brides.
11. Half-Up Half-Down with Maang Tikka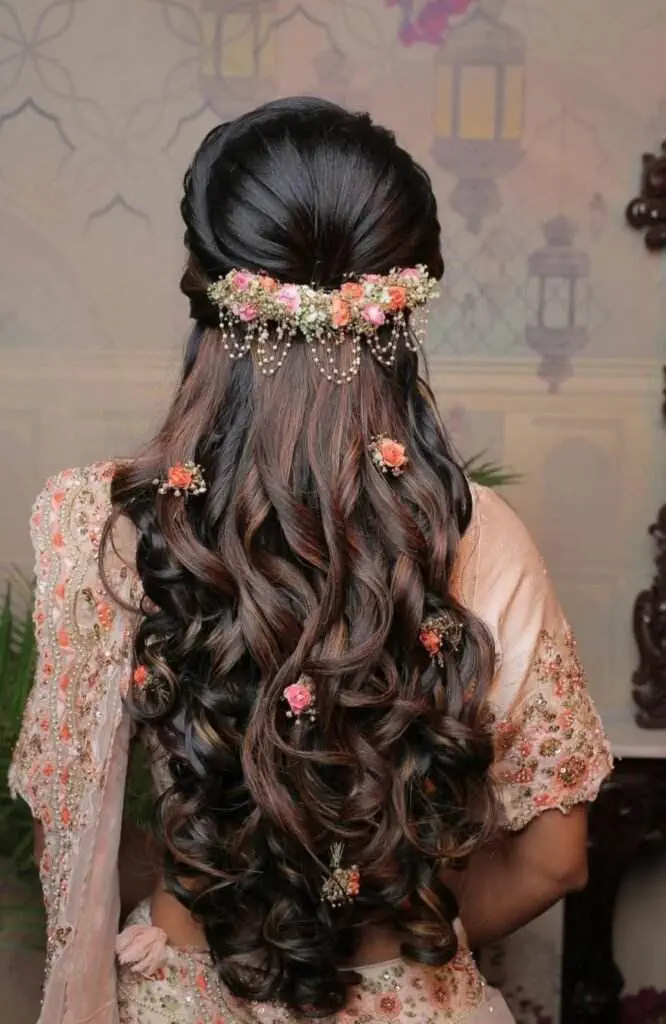 The Half-Up Half-Down hairstyle with Maang Tikka combines modern elegance with traditional charm. This style involves pulling back a section of the bride's hair and securing it, while the remaining hair flows freely. The secured section is often styled into a bun or twist to hold the maang tikka, a forehead ornament, in place. Maang tikka is a significant bridal accessory, symbolizing marital status.
12. Messy Bun with a Tiara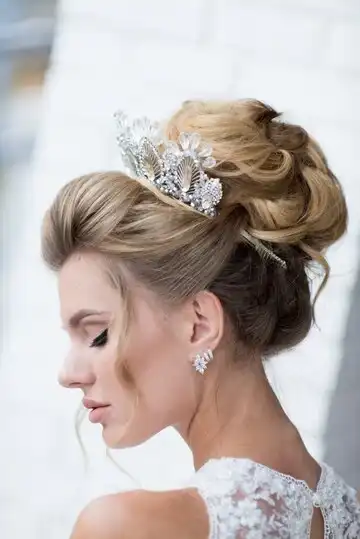 The Messy Bun with a Tiara combines casual and regal elements. The hair is styled into a messy bun that adds a touch of effortless beauty to the bridal look. The tiara, often adorned with gemstones or crystals, adds a royal touch. This hairstyle is suitable for brides who want a balance between relaxed and glamorous. It pairs well with modern gowns or dresses with a touch of sparkle, creating a look that is both stylish and charming.
13. Kannadiga Bridal Hairstyle with Mallige Flowers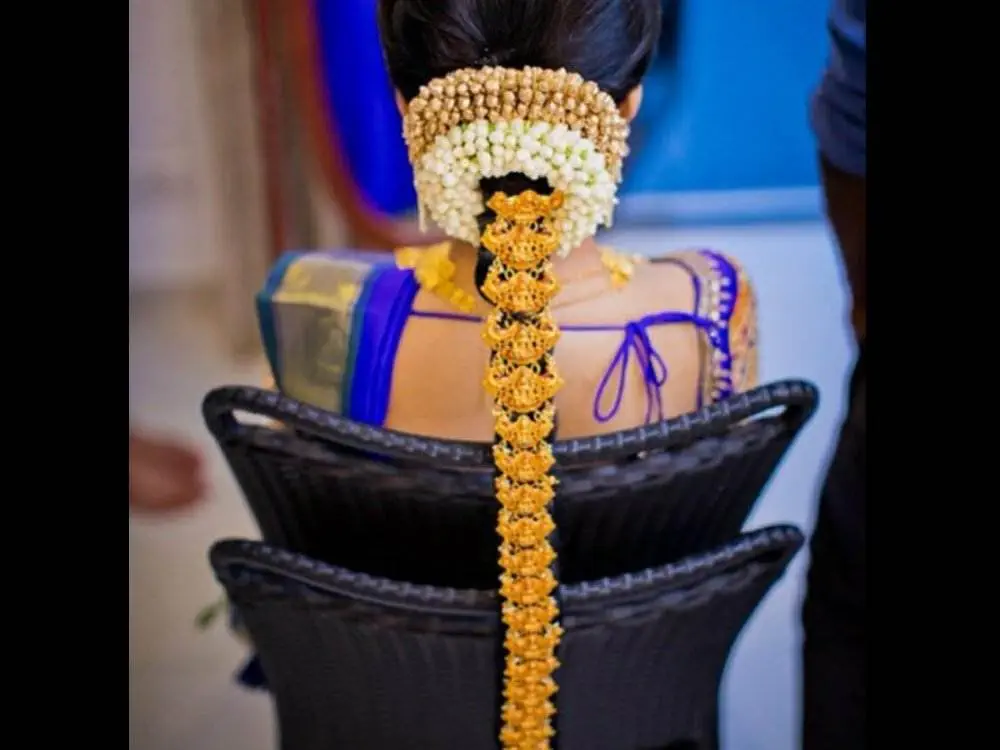 This bridal hairstyle typically involves creating a neat and elegant bun or braid, which serves as the base for weaving the delicate white jasmine flowers. The fragrant flowers are intertwined throughout the hair, creating a visually stunning and aromatic effect.
14. Mughal-Style Updo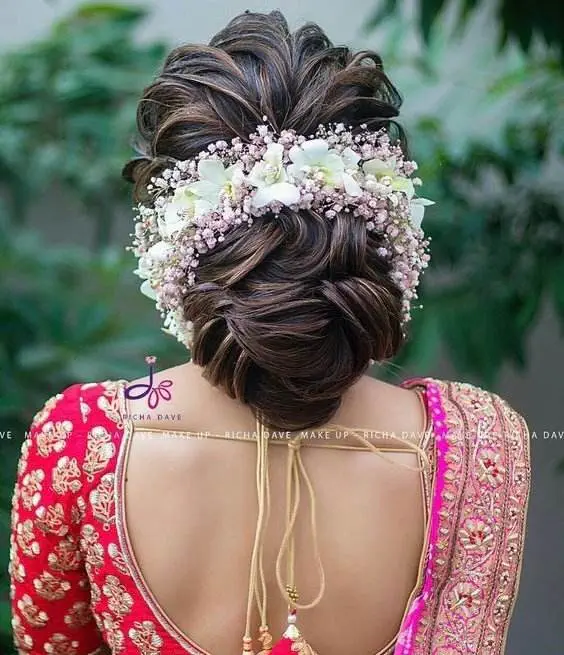 This look usually entails crafting a complex updo that is embellished with hairpins, gems, and a central maang tikka. The hairstyle is further emphasized by delicate and elaborate jewelry that goes well with the rich fabrics, complex embroidery, and superb craftsmanship of traditional Mughal bridal wear. The Mughal-style Updo is a fantastic option for brides who value classic elegance and the Mughal dynasty's legacy since it perfectly embodies luxury and historic beauty.
15. Kerala Bridal Hairstyle with Jasmine Flowers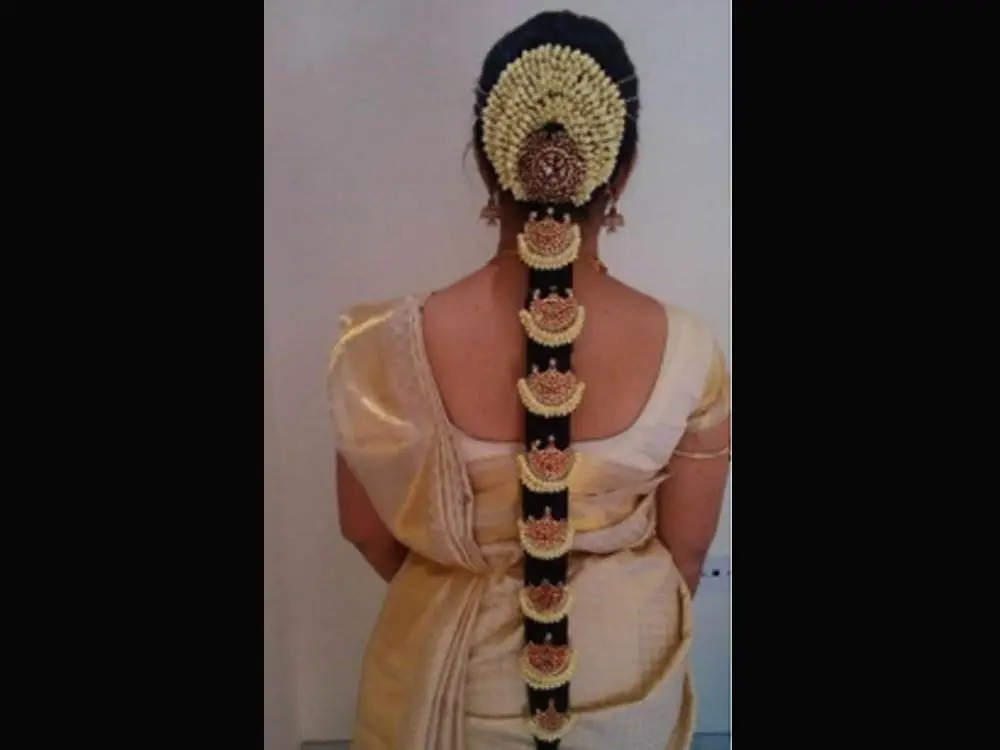 The Kerala Bridal Hairstyle with Jasmine Flowers jewelry is a traditional South Indian bridal look. It features a long braid adorned with fragrant and delicate jasmine flowers. The jasmine flowers are woven into the braid, creating a captivating and aromatic effect. This style is often paired with the traditional Kerala saree, known as the "Kasavu saree," and traditional South Indian jewelry, adding a sense of simplicity and purity to the bridal appearance.
16. Mysore Silk Saree Bun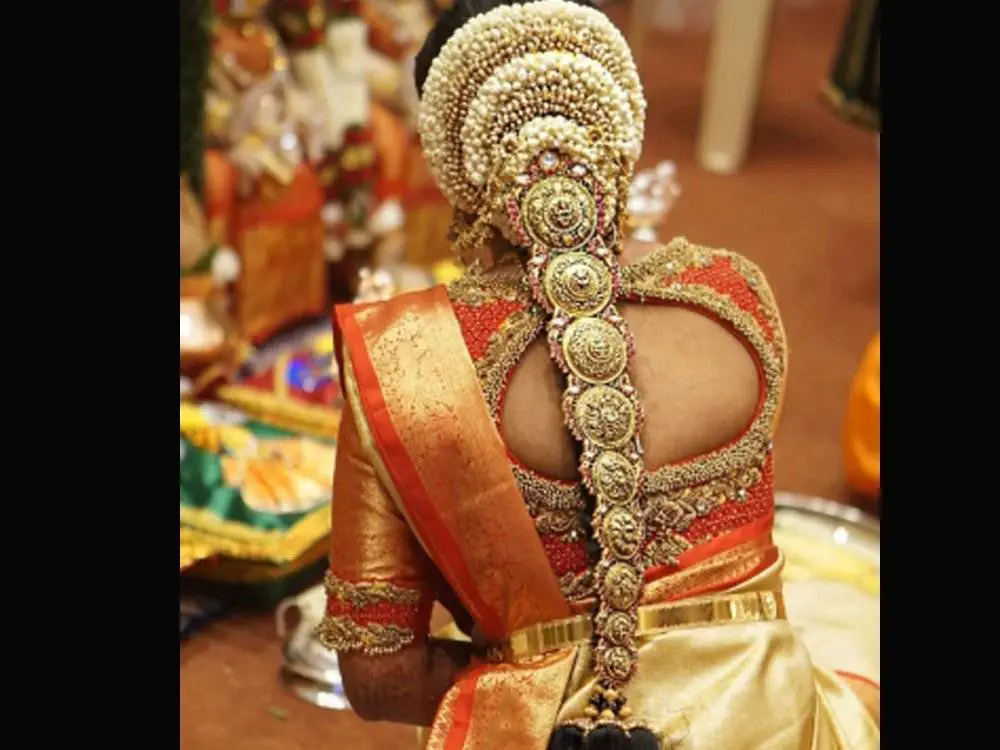 The "Mysore Silk Saree Bun" is a bridal hairstyle that has a well-maintained, sculpted bun that serves as the main attraction. Its exquisite workmanship and meticulous design lend sophistication, perfectly balancing the opulence of the Mysore silk saree. The bride's serenity and elegance are showcased by the bun, which harmonizes beautifully with the saree's creative craftsmanship and traditional jewelry.
17. Gajra and Jasmine adorned Bun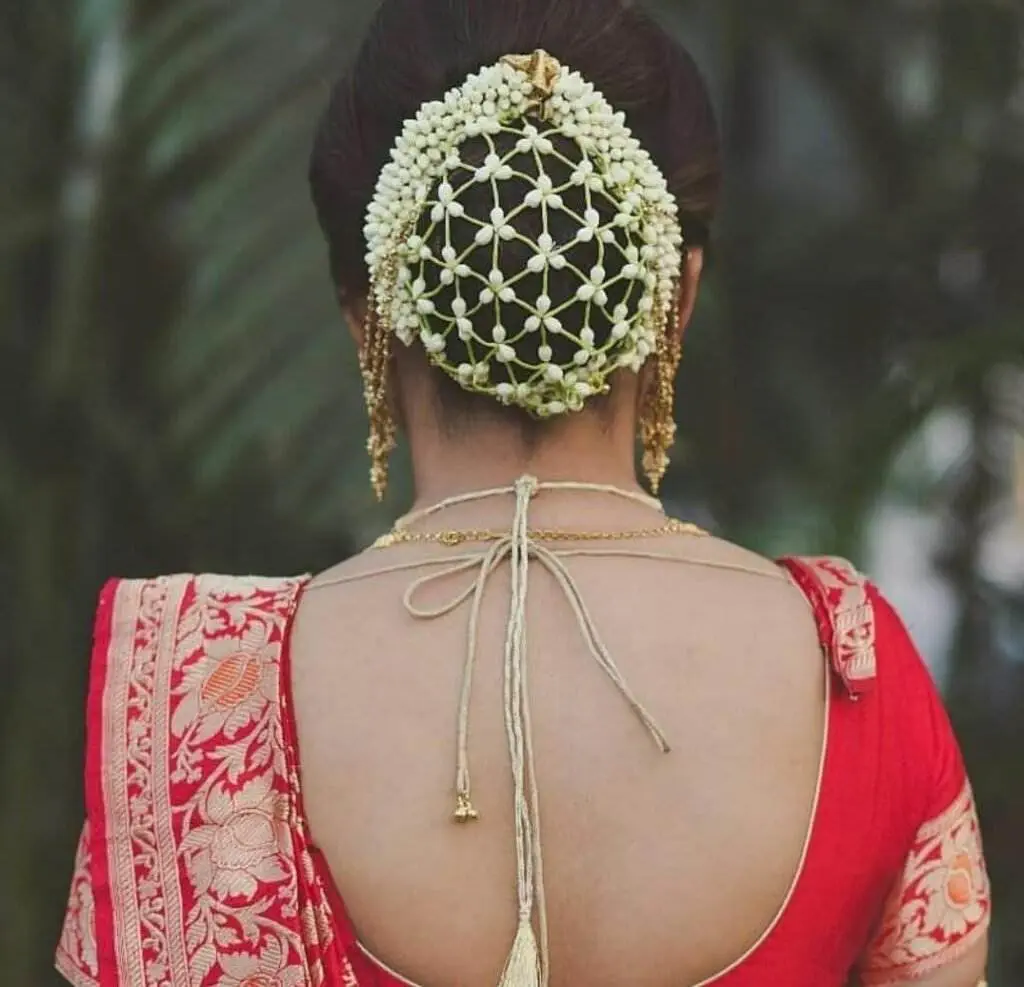 'Gajra' and fresh jasmine flowers are elegantly arranged in a carefully put-together bun, usually at the nape of the neck, in this hairstyle. The fragrant jasmine blooms are woven into the bun itself, while the gajra is a string of jasmine flowers intertwined with decorative components. This blend of elements produces an aesthetically magnificent and fragrant work of art that represents freshness and purity.
18. Toda Bridal Bun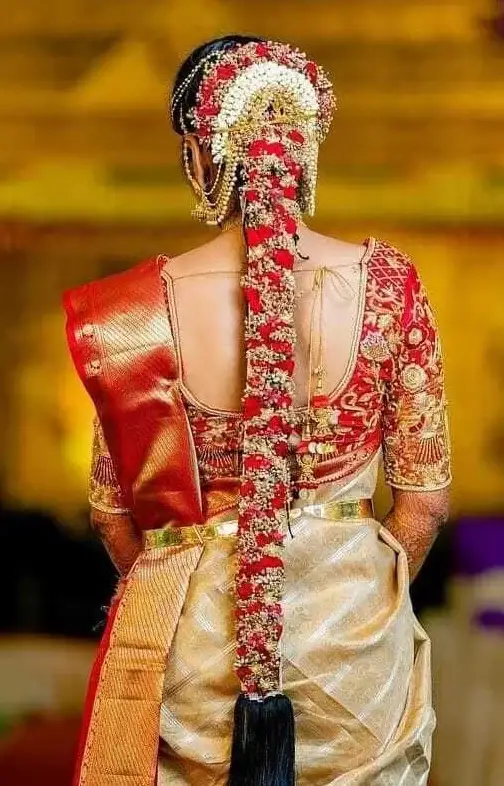 The "Toda Bridal Bun" is a unique and indigenous bridal hairstyle that beautifully captures the traditions of the Toda tribe, hailing from the Nilgiri hills of South India. This distinct hairstyle is marked by a bun adorned with white and red beads, a distinguishing feature of Toda tribal culture. The Toda Bridal Bun not only showcases the bride's connection to her roots but also reflects the rich heritage and customs of the Toda community.
19. Kodava Bridal Bun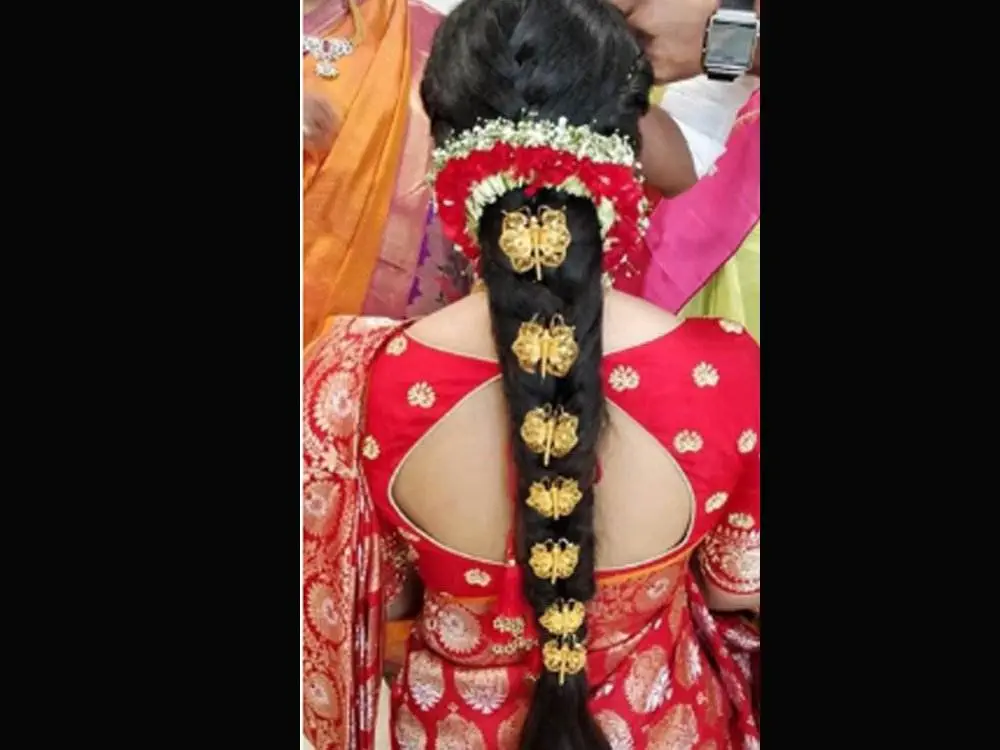 The Kodava Bridal Bun is an integral part of the Kodava bridal ensemble and often complements the 'Kodava Pudak' (traditional Kodava saree) and the 'Nalapattu' necklace. This distinctive bridal hairstyle features a meticulously styled bun adorned with white and red roses, which are a symbol of purity and love in Kodava culture.
20. Punjabi Bridal Braided Bun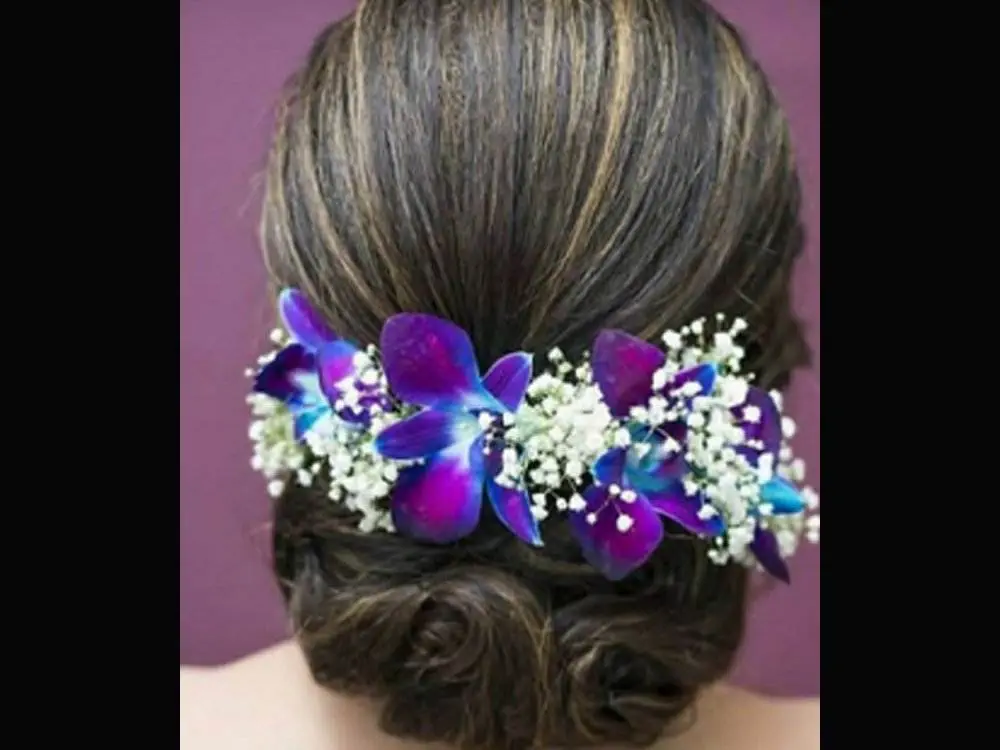 The Punjabi Bridal Braided Bun is a traditional and culturally significant hairstyle from Punjab, India. This style involves creating a braided bun at the nape of the neck, typically adorned with traditional Punjabi accessories. The 'kalire' (ornamental bridal accessories), 'paranda' (colorful hair extensions), and 'maang tikka' are often incorporated into the braid and bun.
Conclusion
In conclusion, Indian bridal hairstyles for brides are not just about looks; they reflect a bride's identity, values, and love as she embarks on her new journey. These styles show that tradition can seamlessly mix with modern trends in today's weddings. Whether a bride goes for a classic bun or a floral arrangement, her hairstyle is a personal choice that mirrors her cultural pride and style.
FAQ
Can I wear a veil with my Indian bridal hairstyle?
Yes, many brides wear veils along with their hairstyles. It's essential to coordinate with your hairstylist to ensure a secure and harmonious look.
How do I prepare my hair before the wedding for the best results?
Clean and well-conditioned hair is ideal. Avoid any heavy treatments or hair products the day before, and ensure your hair is dry when styling begins.
What accessories can I use to enhance my Indian bridal hairstyle?
You can use traditional elements like maang tikka, jhoomar, or matha patti, as well as fresh flowers jewelry, decorative hairpins, and ornate hair combs.