Every bride dreams of looking her most beautiful on her wedding day and one of the most cherished traditions in Indian weddings is adorning the bride's hair with a stunning Pelli Poola Jada.
In this article, we will explore some of the best bridal Pelli Poola Jada designs that can transform a bride into a vision of grace and elegance on her special day.
From the classic choices to the more contemporary options, we'll guide you through the enchanting world of these floral masterpieces to help you find the one that suits your style and sentiment perfectly.
How to take care of Pelli Poola Jada Designs
To ensure your Pelli Poola Jada designs retain their freshness and beauty, proper care is essential. First and foremost, keep them in a cool and dry place when they are not in use. Avoid exposing them to direct sunlight or excessive heat, as this can cause the flowers to wither and the embellishments to lose their shine.
Regularly mist your Pelli Poola Jada with water to keep the flowers hydrated, but be cautious not to make them too wet, as this can damage them. After each use, gently remove any hairpins or clips and store the design in a breathable bag to protect it from dust and pollutants.
Best Bridal Pelli Poola Jada Designs
Traditional Gajra and Jasmine Pelli Poola Jada: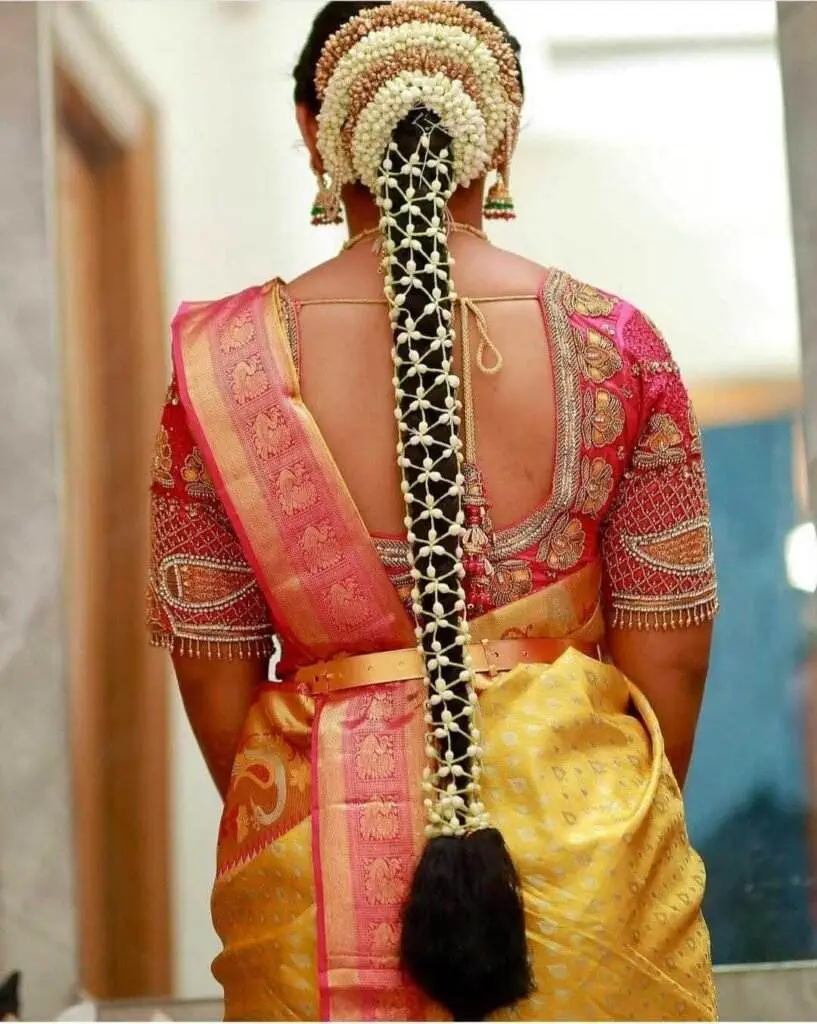 The Gajra is a circular garland made of small, white jasmine flowers, while the Pelli Poola Jada is a decorative bunch of jasmine flowers with a central ornament. These lovely accessories are traditionally worn in the hair, usually braided or tied up, to add a touch of elegance and charm to the bride's look. The sweet scent of jasmine is believed to symbolize purity and beauty, making it a popular choice for brides in various Indian cultures.
Red Roses and Kundan Embellishments: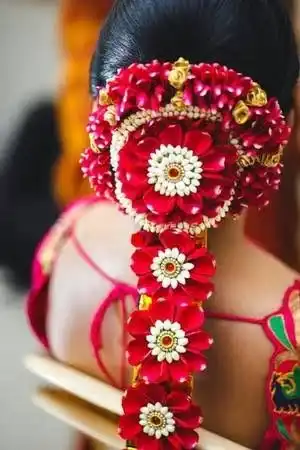 The elegance of Kundan decorations is combined with the beauty of red roses, a symbol of love, in this design. Usually, the bouquet consists of red roses, which can be worn in the bride's hair or arranged as flowers. Kundan, an elaborate and shimmering gemstone, is also a part of the bouquet. These components come together to give the bride an eye-catching and exquisitely crafted look. It gives her overall look a dash of luxury and a vivid, passionate color that makes her stand out and exudes an alluring charm on her special day.
Marigold and Temple Jewelry: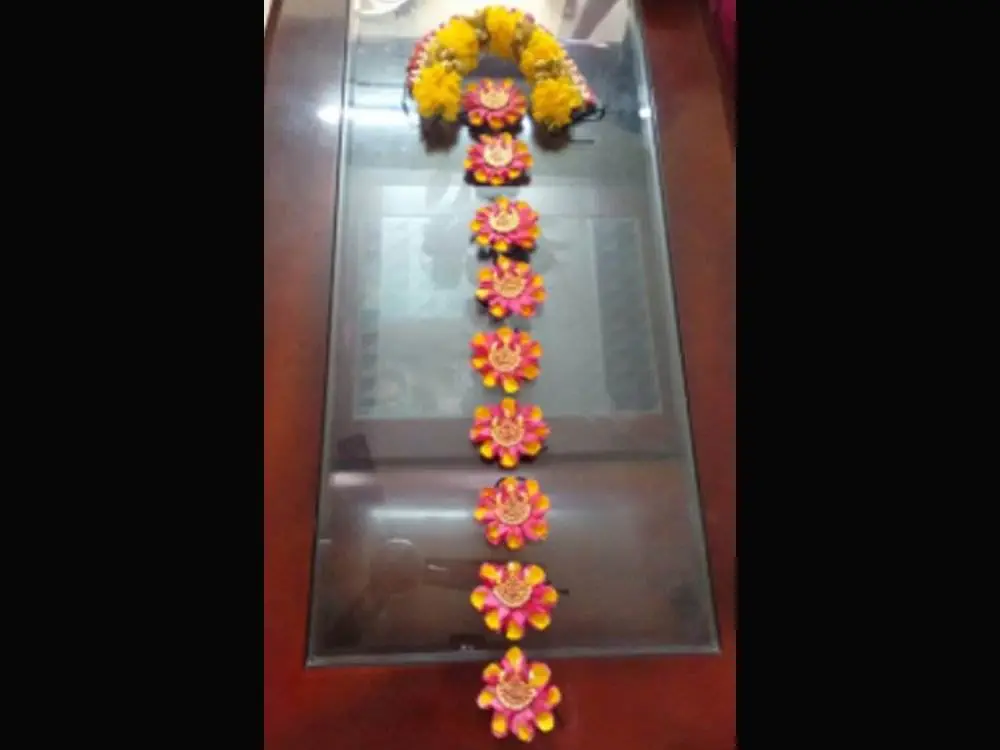 This design is a celebration of cultural richness. Marigold flowers, known for their vibrant orange hue, signify the vibrancy of Indian culture. Paired with temple jewelry, which often features miniature gold coins or motifs, it represents blessings and prosperity. Brides adorned with this pelli poola jada not only look traditional but also embody the essence of a culturally rich heritage.
Exquisite Orchid and Pearl Arrangement: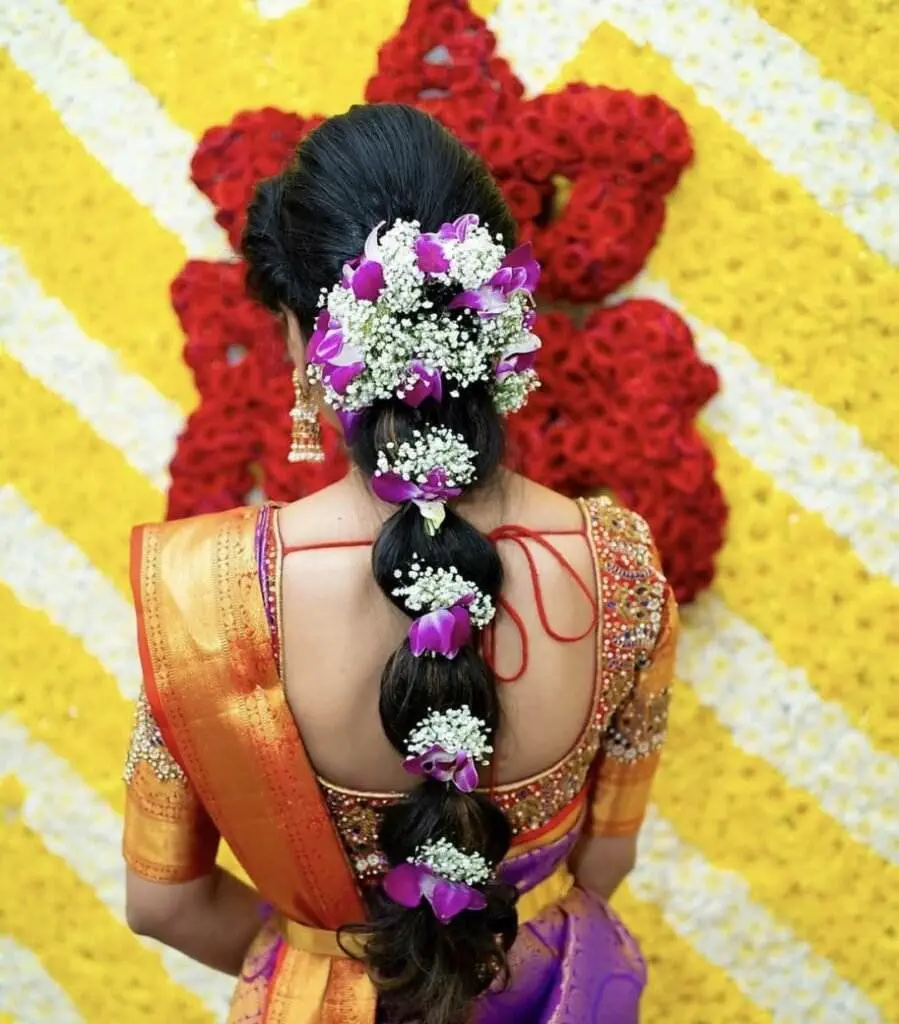 Orchids are known for their unique beauty and delicate appearance. When paired with pearls, they create a modern and sophisticated pelli poola jada. The soft colors and luxurious textures of the orchids complement the lustrous pearls, resulting in a contemporary and elegant look. Brides who choose this design appreciate subtlety and a touch of luxury, embracing a fresh approach to traditional bridal adornments.
Pink and Gold Floral Cascade: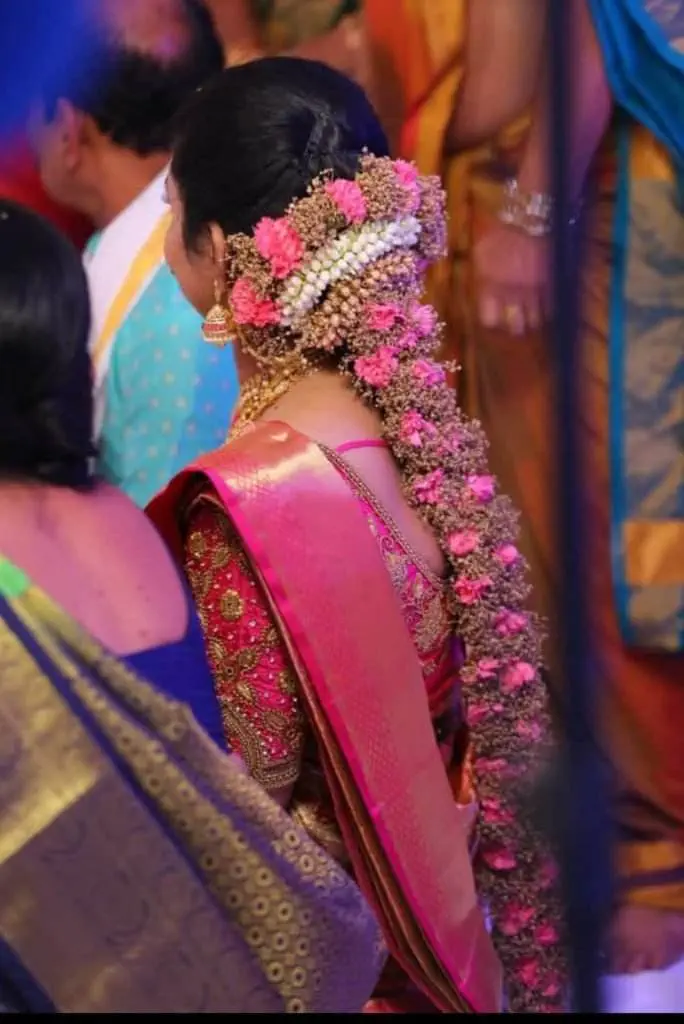 A gorgeous and elegant option for brides seeking a subtle yet opulent touch is the "Pink and Gold Floral Cascate" bridal design. In this design, elegantly entwined pink floral arrangements cascade down the pattern with gold accents. Gold highlights give the entire design a glamorous and luxurious touch, highlighting the bride's grace and sophistication.
Peacock Feathers and Gemstones: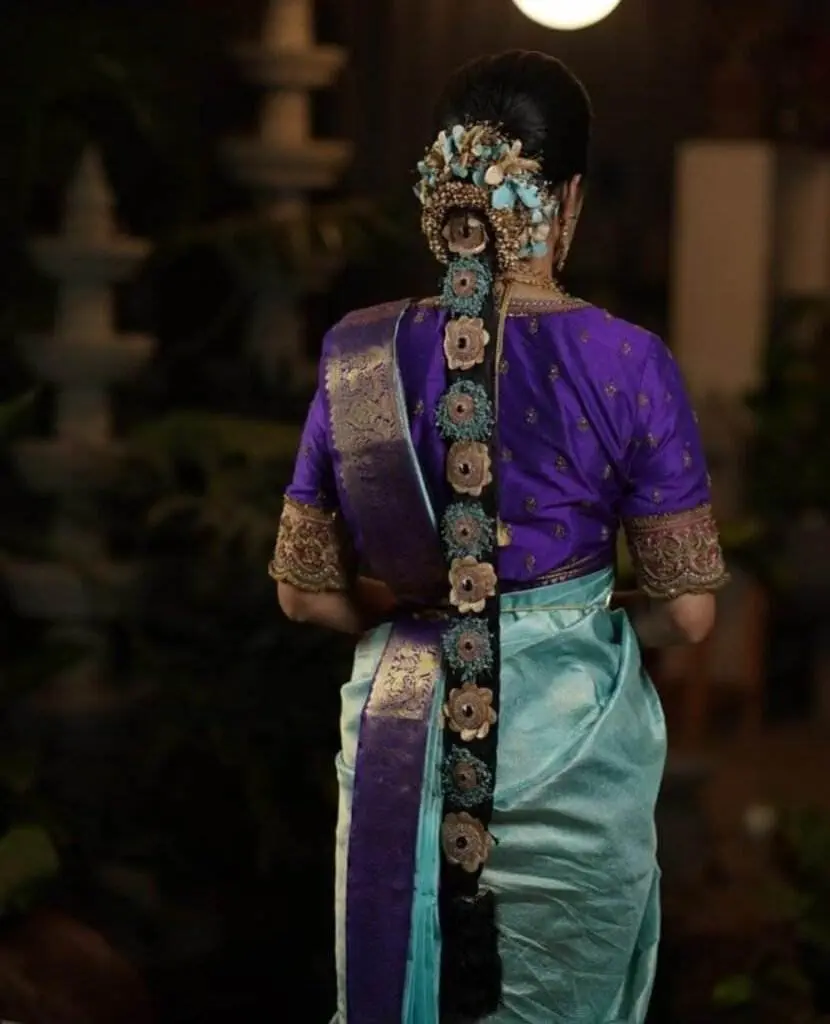 The peacock is revered for its graceful beauty in South Indian culture. This design features peacock feathers and colorful gemstones, which combine to create a majestic pelli poola jada. The peacock's vibrant plumage, often seen in its tail feathers, adds a sense of regality to the bride's appearance.
Lotus and Kundan Pelli Poola Jada: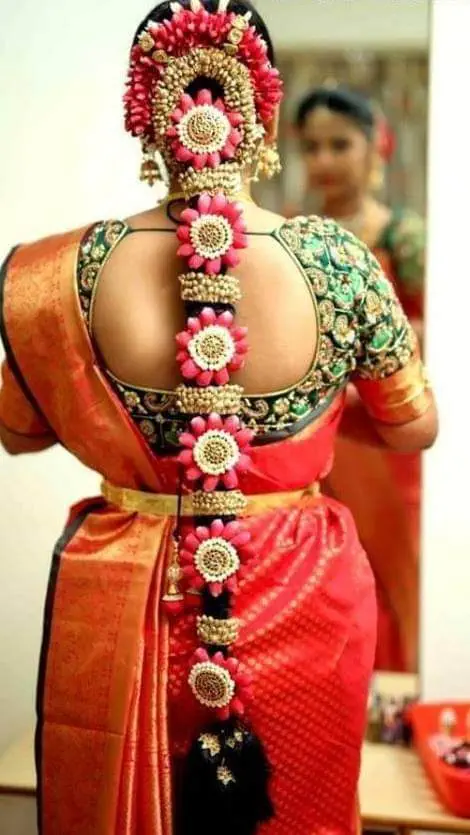 The "Lotus and Kundan Pelli Poola Jada" bridal design is a beautiful and symbolic choice for brides. It features lotus flowers, which are known for their purity and beauty, along with Kundan embellishments. The lotus blooms are woven into a traditional Pelli Poola Jada, which is an ornate floral hair ornament. Kundan embellishments add a touch of sparkle and elegance to the design.
Traditional Mango Leaf and Red Rose Combo: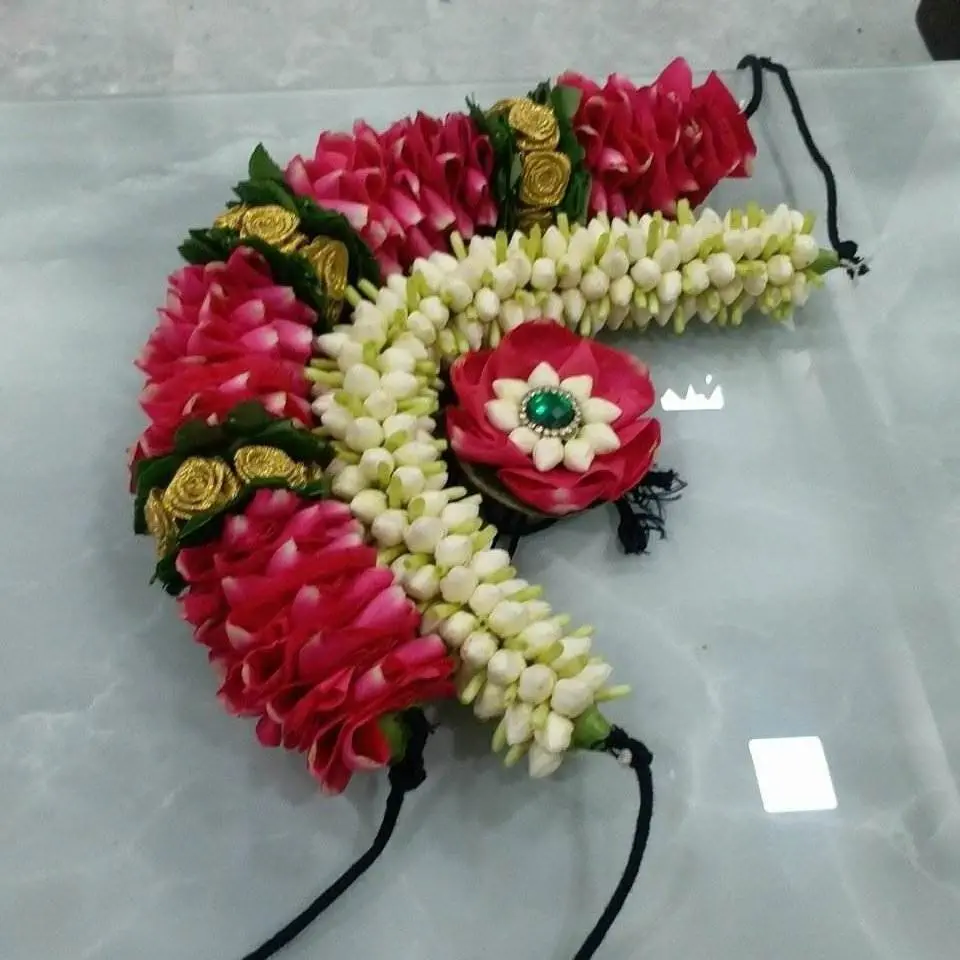 Mango leaves and red roses are commonly used in this style to produce exquisite bridal decorations or accessories. These components work together to give the bride's entire appearance a hint of classic elegance and unforced beauty. It blends the vivid attraction of red roses with the classic elegance of mango leaves. Mango leaves are regarded as lucky in many cultures and symbolize fresh beginnings, while red roses indicate love and passion.
Rajnigandha and Mogra Pelli Poola Jada: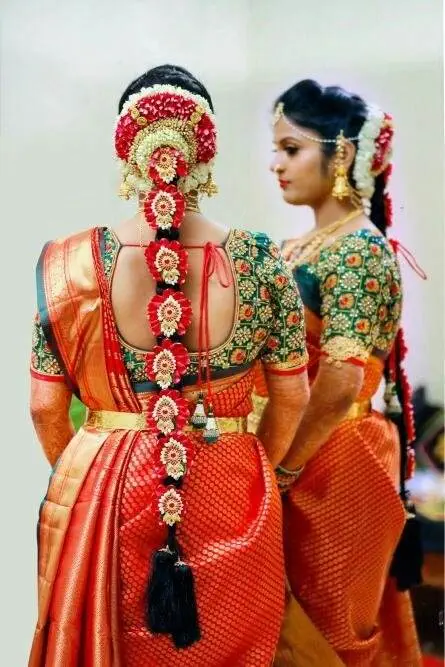 The "Rajnigandha and Mogra Pelli Poola Jada" bridal design is a fragrant and enchanting choice for brides on their special day. Rajnigandha and Mogra symbolize purity and beauty, making them a popular choice for brides in various Indian cultures. The combination of these two flowers in the Pelli Poola Jada creates a mesmerizing and graceful appearance for the bride.
Jasmine and Hydrangea Fusion: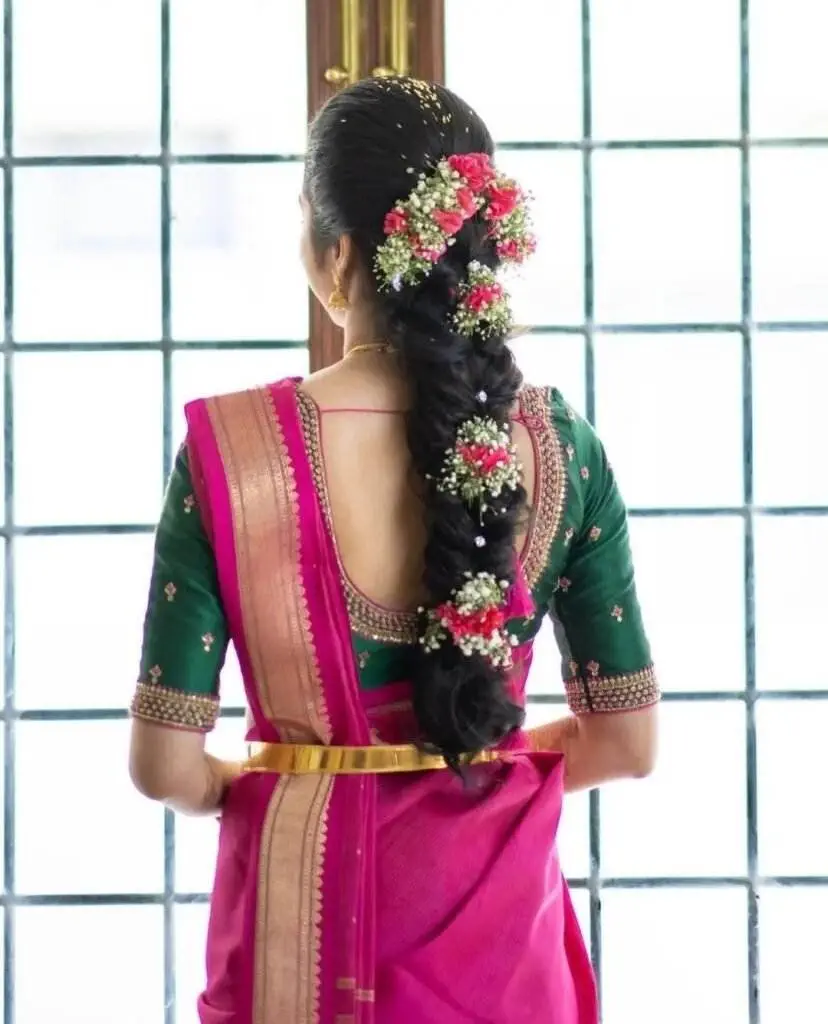 The Jasmine and Hydrangea Fusion Pelli Poola Jada is a refreshing blend of traditional and contemporary floral choices for flower jewelry. Traditional jasmine is combined with hydrangeas, resulting in a visually striking pelli poola jada that appeals to brides who appreciate the variety and a modern twist on classic designs. The combination of textures, colors, and shapes creates a dynamic and captivating look, reflecting the bride's individuality and her desire for a unique and fresh approach to bridal adornments.
Conclusion
In conclusion, when it comes to the best bridal Pelli Poola Jada designs, there is a world of choices to make a bride's special day even more memorable. These bridal designs not only add a touch of grace and beauty but also carry deep cultural and emotional significance. They symbolize love, purity, and new beginnings, making the bride feel special on her big day.
Ultimately, the best Pelli Poola Jada design is the one that resonates with the bride's heart and adds that extra touch of enchantment to her wedding ensemble.
FAQ
What are the most common flowers used in designs of Pelli Poola Jada?
Rajnigandha, Mogra (jasmine), and roses are some of the most common flowers used in designs of Pelli Poola Jada due to their beauty and fragrance.
How do I choose the right Pelli Poola Jada design for my wedding outfit?
Consider the color, style, and symbolism of the flowers in the design. Match it to your outfit's color scheme and the overall theme of your wedding for a harmonious look.
Can I customize my Pelli Poola Jada to include specific flowers or elements?
Yes, many florists and designers offer customization options. You can choose specific flowers and embellishments to match your preferences or cultural traditions.
Are there any cultural or regional variations in the designs of Pelli Poola Jada?
Yes, different regions in India may have unique styles and variations of designs of Pelli Poola Jada, each with its cultural significance and symbolism. It's essential to choose a design that aligns with your cultural background and personal preference