If you are a bride-to-be then you must have decided on your muhurtham saree, and bridal blouse design but what about your bridal hairstyle? Well, we know how difficult it is to select the best hairdo for a wedding.
Today in this blog we have listed the 20 best Poola Jada hairstyles which will help you to select the best one. So without any further delay let's look at all these trendy hairstyles one by one.
Poola Jada hairstyle tips for brides to keep in mind
Make sure you have thoroughly treated your hair with hair-setting spray if you plan to wear the traditional and auspicious dupatta in India.
Pick a hairdo that is lightweight and won't weigh your hair down if you are a bride wearing a heavy lehenga and an even heavier work dupatta.
Get expert assistance because you may already have too much on your plate and it is preferable to leave the finer aspects, makeup, and hair to someone who is skilled in them.
You should always have enough hairpins and bobby pins on hand to secure loose ends because Indian brides like to wear a lot of head jewelry on their wedding day, which could alter the hairstyle.
20 Poola Jada Hairstyles: Traditional yet Trendy
Shell adorned bun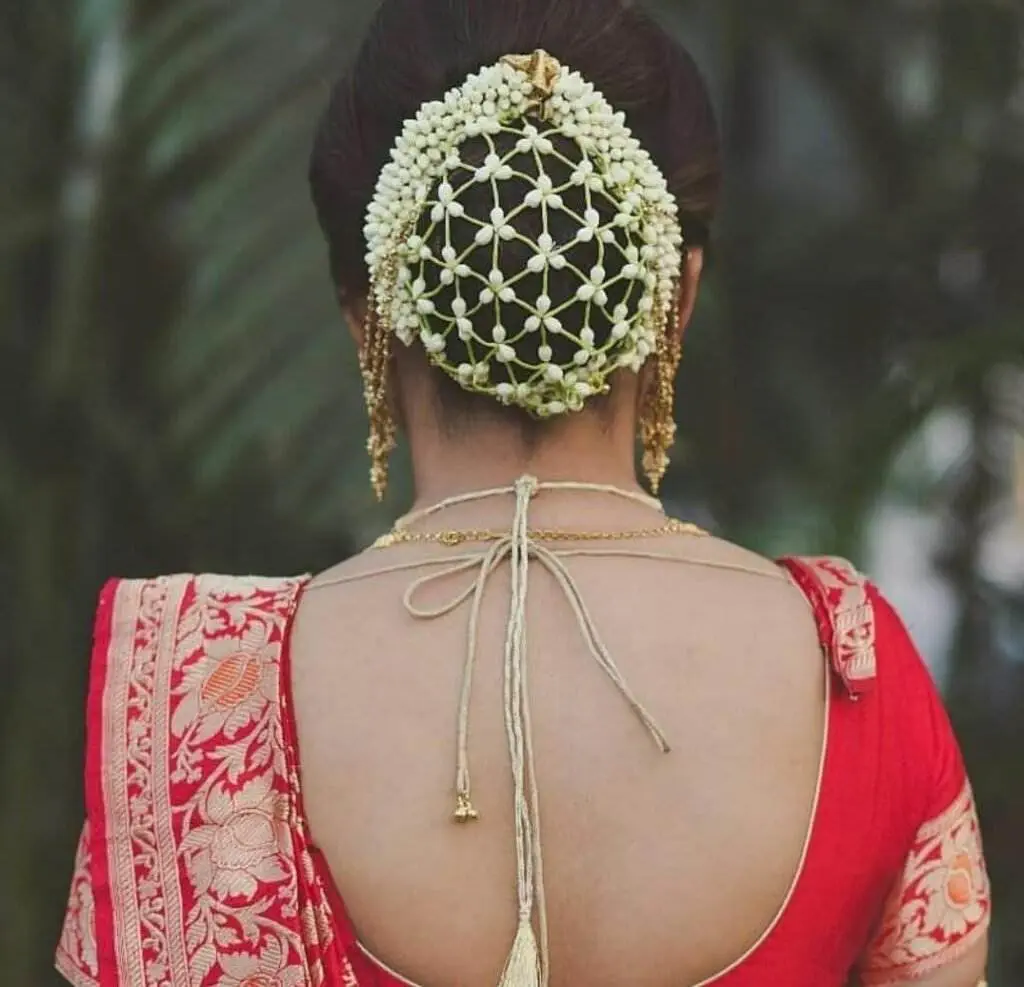 Although shell jewelry like earrings and necklaces is well known, you can also use shells to adorn your bun. This is for any brides or bridesmaids who wish to stand out and do not want any floral accents on their attire. Make the next bride in your family and friends jealous by adding a shell-beaded thread to the edge of your bun.
The rose-adorned bun
For all the brides who adore roses, create an elegant bun wrapped in full-bloomed flowers, or cover the entire bun in rose petals. Choose this style if you want flowers in your hairdo but have short hair because it will make your hairstyle look voluminous on your wedding day.
Chignon bun
Long-haired brides look gorgeous in this hairstyle. Take your long hair and wrap it over itself several times to create a detailed bun. This will draw attention to your hair's thickness and give the appearance of volume. Take some flowers, gajra, or velveteen florals and place them on the edge of the hair bun to finish the hairstyle. It will improve your appearance and give you a royal aura.
Netted Jada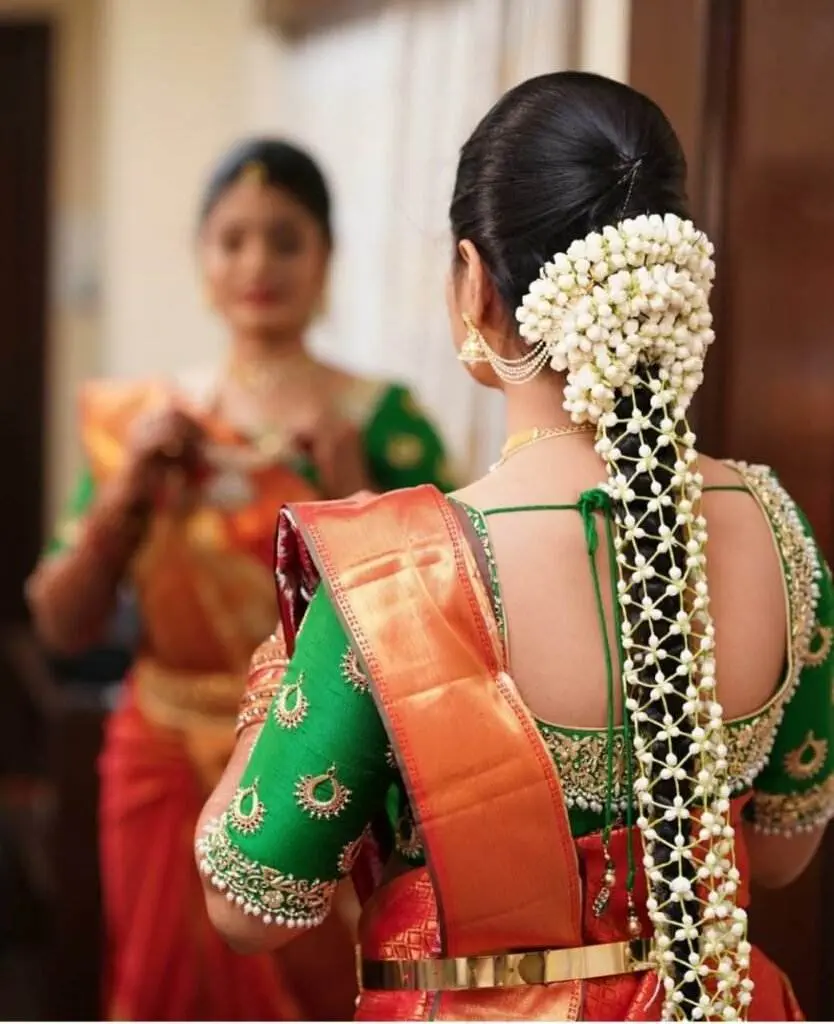 The go-to and most popular hairstyle for South Indian brides getting married is the traditional Jada-covered style. The modern generation of talented hairstylists has given us variations on this heavier haircut. One of the Jada has a large flowery top and is netted. This is an option for brides who do not want to go all flowery but still want a detailed Jada or who simply do not want to bother with any hair poking out of the braid. If you have long, voluminous hair, this style would be ideal for you because it is very beautiful.
Minimal Jada with flowers
Some brides choose to keep things simple, elegant, and refined rather than go overboard with them. The Jada is a straightforward braid with a straightforward semi-circular flowery top. If you want to make the braid flip-worthy for your wedding shoot, you can add a little accessory (Jada Kuppulu) at the bottom.
Traditional heavy jewelry adorned Jada
Hair extensions, a hair decoration, and strings of flowers are tied together to form the Traditional Jada. This hairstyle is thicker than average because the embellishments are frequently heavy, as was already noted. This one is ideal for the traditional bride who wishes to adhere to culture and customs.
Bubble braid with flowers
Another braid style that has gained popularity is bubble braid. This one is a little tricky, so keep an endless supply of rubber bands on hand if you want to pull it off. You can count on it to appear gorgeous and distinctive. And one day, you'll be the bride who made a different choice when she got married. So go ahead and give it a try and add roses or little velveteen flowers to give your hairdo a heavier appearance.
Floral Dupatta
This one will undoubtedly get everyone to bring up your wedding whenever they attend another wedding. This one's for you if you want to try something novel. Put the dupatta on your hair after styling it however you like. Pick some tiny flowers that won't impede your mobility.
Princess floral crown
If the brides' weddings had a princess theme then one of the hairstyles that will make you look like a princess is this one. Make a sloppy twist ponytail and place flowers in the shape of a crown on top of your head. Since you are a princess, it will appear to be a crown, and you may require it on your wedding day.
Fishtail braid wrapped with Gajra
The bridal industry is highly popular with fishtails. However, it's expected that the braid won't unravel at a South Indian wedding. A deconstructed version of a gorgeous messy braid is called a fishtail. Try the fishtail and accentuate it with flowers or jewelry if you're a bride who prefers to break from custom.
Two-toned floral bun
This hairstyle is for the bride who wants to go a bit farther but ultimately decides against going overboard and can't determine which color flowers she wants to add to her hair. Create a bun, then add decoration to the edges with one color and another color to the center.
Poola Jada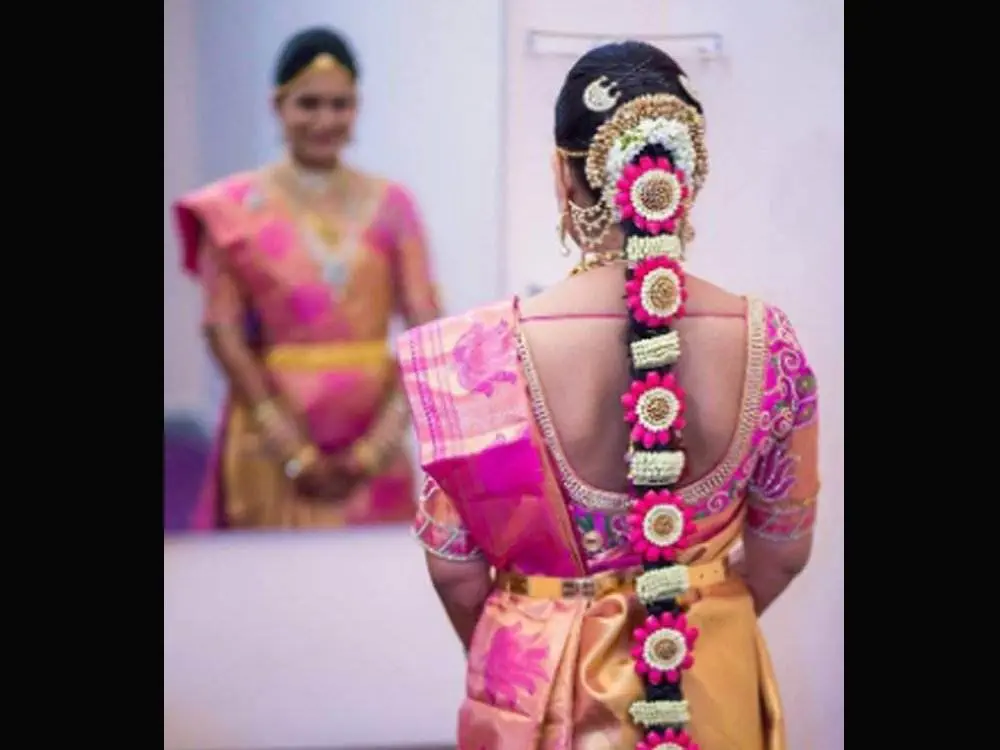 Poola Jada is a popular choice among millennial women and is another traditional option for South Indian brides. Jasmine flowers, which stand for vigor and harmony in marriage, are used to decorate the Jada. This provides the bride with a regal appearance that is ideal for the wedding.
Half-open hair with flowers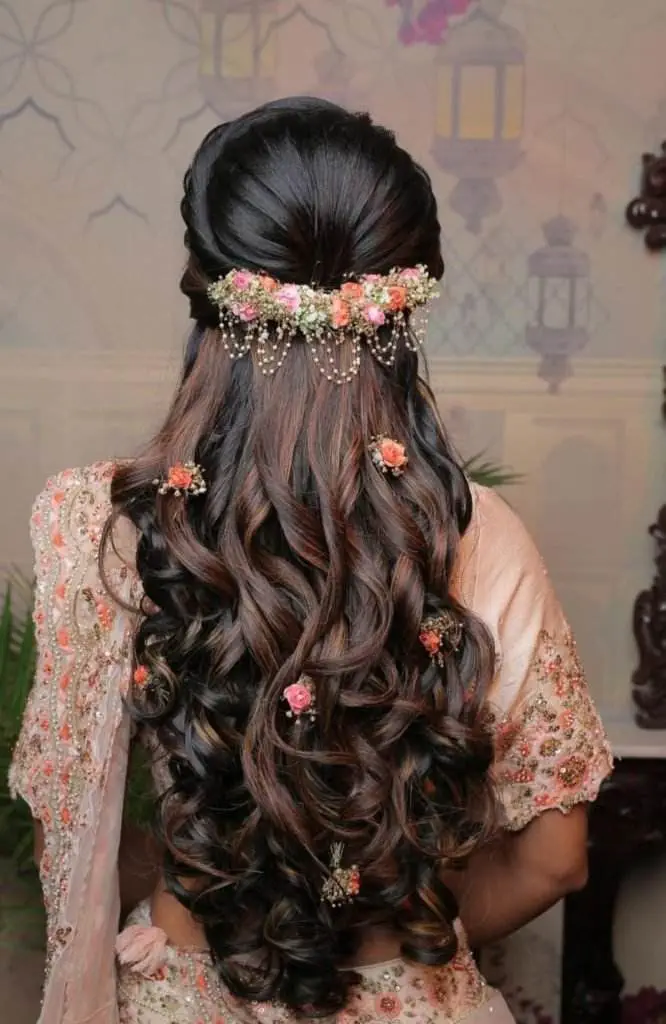 Take half of your hair, and let the remaining hair fall out in wavy waves. Take a few flowers, such as baby breaths, tiny velveteen flowers, rose petals, or a little rose, and arrange them on top. It will look gorgeous, and the flowers, as always, are the icing on the cake.
Floral ponytail and sheesh patti
Ponytails are not traditionally worn at weddings, but they have started to catch on thanks to fresh, talented hairstylists and our modern brides, who are willing to try new things to make their wedding special. So, one ponytail option for your special day is this one. Wear a sheesh patti and knot the ponytail haphazardly to finish the appearance. It even works with a matha patti or maangtika. Sheeshpatti will offer a classy appearance.
Minimal Jada and jewelry
This one's for brides who want to keep things basic with a fashionable touch. Good news for jewelry lovers: you can use it for braids as well. The hair jewelry makes the entire ensemble more charming. Put the jewelry on your braid and give it a quick twist and turn. Don't be hesitant to wear heavy jewelry that matches your attire, such as a thick necklace or a cluster of large earrings, in your hair. By doing this, you are also making a fashion statement by reusing your jewelry.
Open hair and floral crown
Another option for modern brides is to simply let their gorgeous locks hang loose and accessories them at the top of their heads with a little flower garland. Any small object, such as flowers, will give appeal to the whole look.
Flower adorned Jada
This one is for contemporary brides who prefer heritage but do not want a Jada that is heavily florally embellished. Create a simple or twisted braid and add a row of tiny flowers or baby's breath to give it a contemporary feel while yet honoring tradition.
Jewelry adorned Jada
Make a simple or twisted high or low ponytail and tie it with some jewelry if you don't want to go too far with your ponytail. You can purchase usable hair ornaments, or you can wear a lengthy, bulky necklace or a choker necklace with your ponytail.
Floral mandala on long braids
This is one of the best hairstyles that most brides choose to wear; the base of the long braid is decorated with layers of colorful flowers called VENI, and the long braid has been adorned with large flower studs called MANDALAs to complete the bridal look. For a more understated look, the front and back of the long braid are covered in a lightweight flower mesh or floral net.
Decorative side bun
The side bun is the best option if you want the appearance of a bun with a gentle yet sophisticated style. A side-bun would complement any outfit, whether you are wearing a gown, Lehenga, or other Indian or cultural clothing. Simple curls are formed into a bun at the side of the head as opposed to the center and are pinned in place.
Final words
Aren't these poola jadas the perfect thing to help you choose your wedding hairstyle? Additionally, keep in mind that, particularly if you have short hair, you should be able to support the weight of the entire braid. Stay tuned for more such blogs on pellipoola jada. Also, tell us about your preferred hearing style in the comments section.
FAQ
Can I create a Poola Jada hairstyle with short hair?
Yes, you can still achieve a Poola Jada-inspired look with short hair. You can use hair extensions or artificial braids to create a long braid and then style it into a bun. Add flowers and accessories to complete the look.
Are Poola Jada hairstyles suitable for casual occasions?
Absolutely! While Poola Jada hairstyles are often associated with traditional events and weddings, you can also wear them for casual occasions. Adapt the style by using simpler flower arrangements and fewer accessories for a more relaxed look.
Can men sport Poola Jada hairstyles?
Yes, Poola Jada hairstyles are not limited to women. Men can embrace this style by incorporating braids and buns into their hair. They can use subtle accessories like small flowers or hairpins to enhance the look.
How long does it take to create a Poola Jada hairstyle?
The time required to create a Poola Jada hairstyle varies depending on the complexity of the design and the expertise of the stylist. It can range from 30 minutes to a few hours, especially for intricate and heavily adorned styles.