Weddings in India are grand affairs. And when it comes to decoration in these weddings flowers are one of the top things which can be used to amp up your wedding decor. With new trends coming daily, there are many ways to use flowers for decoration.
In this article, we will look at some flower wedding decoration ideas that can make your wedding look like a dreamy occasion and help it to make a memorable experience. So without wasting further time let's get started.
Some popular flowers used for wedding decor
Roses are the most common wedding flower of all time because they are stunning, fragrant, and adaptable. There is room for roses in just about every aspect of a wedding, regardless of the style, from their use as flowers for bridal bouquets to dramatic ceremony arches.
Because of its luxuriant petal structure, ranunculus is a favorite wedding flower. Apart from a few distinct shape variations, ranunculus is available in a variety of hues, such as burgundy, peach, pink, red, white, and yellow.
If you want a large, pillowy flower for your wedding, hydrangea is another well-liked option. Bridal bouquets frequently use white hydrangeas, but the plant also grows in blue and green.
Calla lilies, distinguished by their trumpet-like shape, are a classic choice for glamorous couples. They are particularly effective in bouquets for upcoming newlyweds who want a long-stemmed choice.
Due to their wonderful scent, gardenias make a wonderful choice for unique arrangements like boutonnieres and corsages.
12 Stunning flower Wedding decoration ideas
1. The Blue Lagoon
Pink flowers on a blue background can be a good flower decoration idea because Blue and Pink form such a good combination. The blue color symbolizes uniformity whereas pink flowers give it a sweet and gentle touch. This decoration idea is best if you are looking for a simple yet royal wedding decoration idea.
2. Floral Chandelier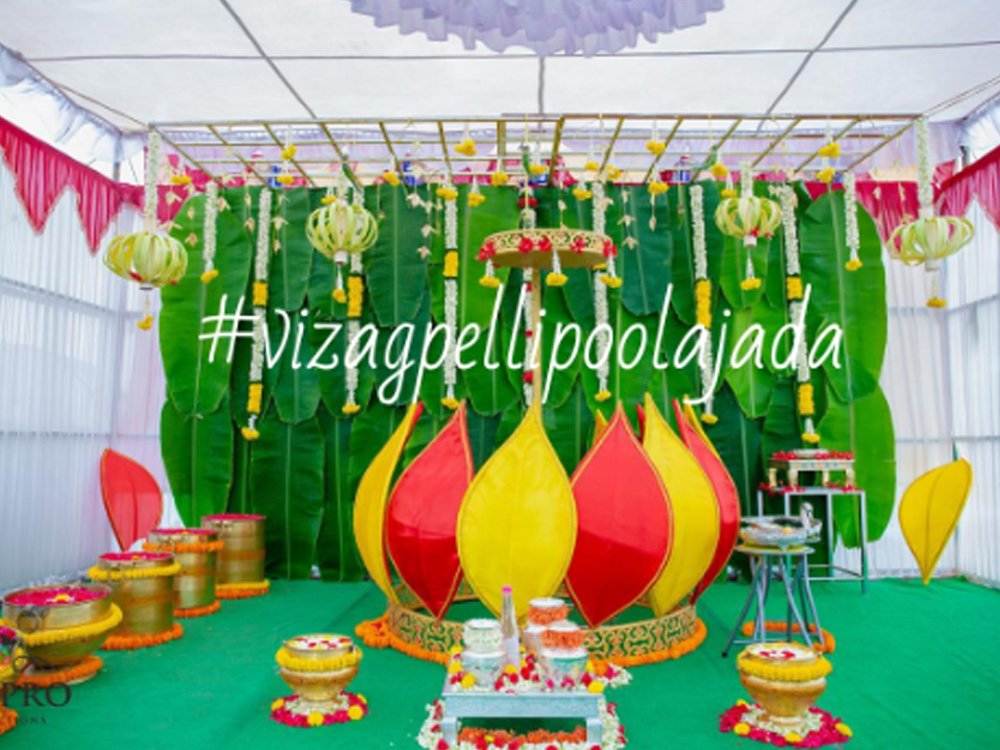 Who would have imagined flowers and chandeliers could enhance a wedding design so beautifully? We adore how these are skillfully carved into tiny bunches of white flowers that are subtly intertwined with one another. Definitely, a sight to behold. If you're still debating your wedding decor, take a hint from this idea and start planning.
3. Floral centerpiece for dining
Spend some time in advance chatting with your wedding decorator to assist them in creating the layout of your table seating. Use candles, flowers, wines, and specialized cutlery to go with them. Small flowers can be arranged in tiny bunches for your wedding flower design, and one full-length centerpiece can be set aside to add refinement.
These days, there are no restrictions on what you can do while decorating your tables. The wedding flower decoration includes everything, from bouquets used as table centerpieces to a single flower in a vase placed at a single table.
4. Floral tray for decoration
This silver thali that has been embellished with flowers will give some traditional ambiance to your wedding mandap. You can utilize these to enhance the attractiveness of your wedding ceremonies and add some classic rangoli designs. It is a beautiful method to add bridal floral decorating ideas to enhance your event.
5. Floral Wreaths
It is ideal for a Christian wedding since it beautifully captures the essence of what a wreath represents while also looking gorgeous as decor. Make sure to include a wreath or two to enhance the elegance of your event if you are having a wedding anytime soon.
6. Floral Photobooth
With this simple and fun wedding photo booth, bring your selfie skills and nail your wedding photos. It is enjoyable, colorful, and unquestionably a wonderful approach to guarantee that your guests have something to occupy their time.
7. Flower Chariot
Your ring ceremony would be ideal on a crown-shaped chariot decorated in flowery splendor for your wedding festivities. Your special day would be incredibly magical with this décor, which genuinely lights up. You can experiment with the concept while giving your wedding a fairytale theme, in which case this chariot would blend in beautifully with your ideas and apparel.
In the midst of the floral magnificence, the bride can enter wearing a flowing Cinderella gown and wait for her Prince Charming to lead her happily ever after.
8. Floral Canopy Mandap
This gorgeous bridal floral decoration, which certainly appears as it belongs on the set of a fantasy movie, would steal the show at your wedding. This lavishly decorated floral mandap stands out for its extravagance in contrast to the natural light and vibrant colors. With an abundance of flowers in every color and pattern, the simple seating and design will undoubtedly steal the show.
9. Floral Backdrop
This floral design can serve as a backdrop for your photos. This does not imply that you can only eat a modest portion of it. The entrance's sides can be simply constructed in this manner. It is simple to create. fewer blooms, but still a stunning masterpiece.
10. Floral Lantern
The romantic ambience is created by lanterns. Why not use them for your wedding instead? Add a bouquet of flowers on the top to decorate it. All over the place, hang them. Decoration that is simple and elegant for a modest, private wedding. exactly how you prefer! This arrangement can be utilized as a reception décor.
11. Strings of flowers
Simply leave the flowers strung up in threads and ropes to dangle there. You can hang them wherever you like. It's simple to accomplish, and if the event is in a garden, this style of decoration will fit in perfectly with the setting. This innovative method will let you stay within budget while providing a flowery backdrop.
12. Bottles of flower
This is a distinctive flower design that would look super amazing in the decorations for your wedding events. They appear to be so basic, but they may really enhance the whole decor.
Final Words
In terms of wedding decorations, flowers are really important. They are quite helpful in ensuring that the entire scene appears vibrant, dynamic, and gorgeous. Try something fresh instead of continuously choosing the same décor. follow us on Instagram to know more. Build inventive photo booths, Jazz up the bar, and add a flowery walkway for a beautiful photo backdrop.
FAQ
Are there any unconventional flower alternatives for a bohemian-inspired wedding?
Consider using dried flowers, such as lavender, eucalyptus, and baby's breath, to create a whimsical and bohemian vibe. These flowers can be arranged in wild, rustic bouquets or used as natural confetti for a unique and eco-friendly touch.
Can I use flower petals to create a unique wedding aisle?
For an enchanting effect, scatter flower petals along the entire wedding aisle. Consider using petals in different colors or creating a pattern or design with them. It will add a touch of romance and beauty to your walk down the aisle.
How can I incorporate flowers into the lighting design for my outdoor wedding?
Combine flowers and lighting for a mesmerizing ambiance. Hang strings of fairy lights or lanterns from tree branches and intertwine them with fresh flowers or flower garlands. As the sun sets, the lights will illuminate the blooms, creating a dreamy and ethereal atmosphere for your outdoor celebration.