The most enjoyable and eagerly awaited event in Indian weddings is the ring-finding ceremony. Finding the rings in a water-filled pot is a traditional South Indian wedding ritual. This pot is known as Ungarala Bindi in the Southern region.
There is great significance of this bindi in wedding ceremonies. So today we will look at everything you need to know about these Bindi. At last, we will look at some beautiful  Bindi widely used in ring-finding functions. So without any further delay let's get started.
What is Ungarala Bindi?
An earthen pot with strong cultural origins and significance in Indian families for a variety of functions is referred to as "Ungarala Bindi" in the Telugu language. The word "Ungarala" designates the pot's construction material, which is clay or mud, while "Bindi" refers to a minute dot or mark. Using clay from nearby sources, these pots are traditionally created by talented artisans.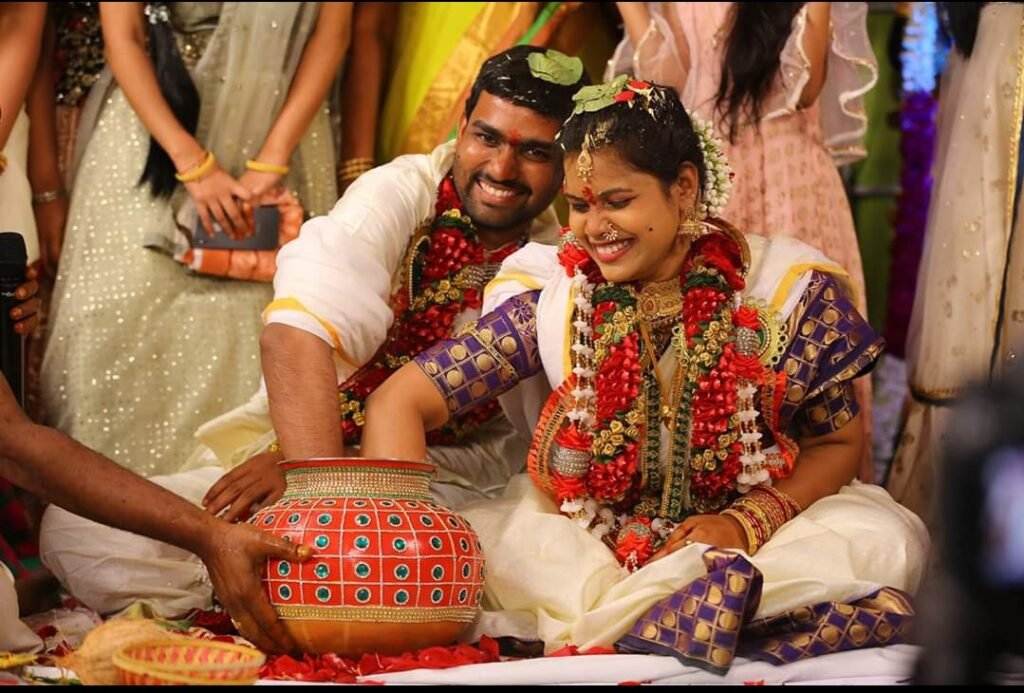 They are particularly common in rural regions and during traditional ceremonies when they are crucial to customs and rituals. In Indian tradition, They have symbolic significance in addition to their practical applications. It is considered lucky to have water stored in these pots during religious rites and festivals because they are frequently linked to fortune.
How is it made?
The artists begin by gathering the proper texture and quantity of clay from surrounding riverbeds or fields in order to make these ancient pots. The clay is gently kneaded once it has been gathered to remove any impurities and obtain a smooth consistency.
Once the clay is ready, the potter takes a lump and expertly forms it by hand or on a wheel to create the appropriate size and shape of the pot.
After the pot has been completely formed and embellished, it is left to sun-dry for a considerable amount of time to encourage drying and prevent cracks. After drying, the pot is baked to solidify the clay and make it water-resistant in a kiln or over an open flame. The completion is now ready for use. It can store water and other liquids, offering a natural and eco-friendly alternative to modern containers.
Types of this Designer Ungarala Bindi
Stainless Steel
A contemporary rendition of the classic clay pot used in India, these Bindi are made to be long-lasting, practical, and versatile. This pot's glossy appearance and high-quality stainless steel construction preserve the authenticity of its cultural heritage.
A significant role is played by these Bindi in the customary Indian ring-finding ritual. This ritual, which is frequently performed at weddings, entails the bride and groom looking for a ring in a pot of water, milk, or colored liquid. Due to its strength and durability, this Bindi makes a perfect choice for this ritual since it can bear handling and stirring throughout the ritual.
Brass
Due to its enduring elegance and cultural symbolism, this Bindi is the ideal option for this situation. The pot's warm and lustrous glow, which emanates from its high-quality brass construction, adds to the ceremonial atmosphere.
It represents grit and resilience, representing the enduring love and devotion the couple is about to undertake in their married journey as they gently stir the pot in search of the ring.
German Silver Bindi
German Silver Bindi features a complex design and a dazzling sheen thanks to its mix of copper, zinc, and nickel. The German Silver Bindi represents oneness and the mixing of their lives, signifying the enduring bond they are about to begin.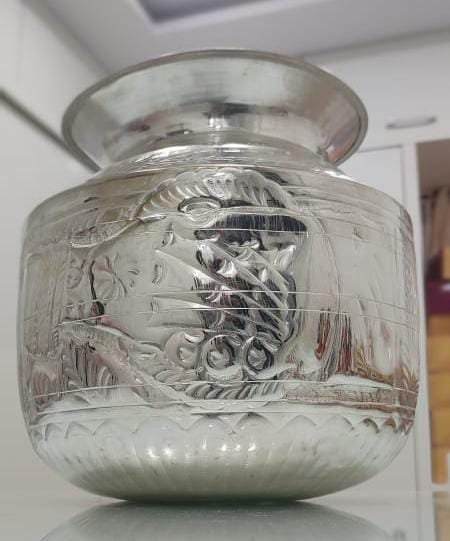 This custom, enhanced by the appeal of the German Silver Bindi, not only deepens cultural bonds but also ushers in a voyage of love and camaraderie that will live in memory.
Floral Designed
A compelling and artistic interpretation of the conventional Indian earthen pot, the Floral Designed Bindi adds a charming touch to the wedding ceremony's ring-finding ritual. This Bindi is decorated with beautiful floral patterns and designs and emanates a feeling of natural beauty and grace.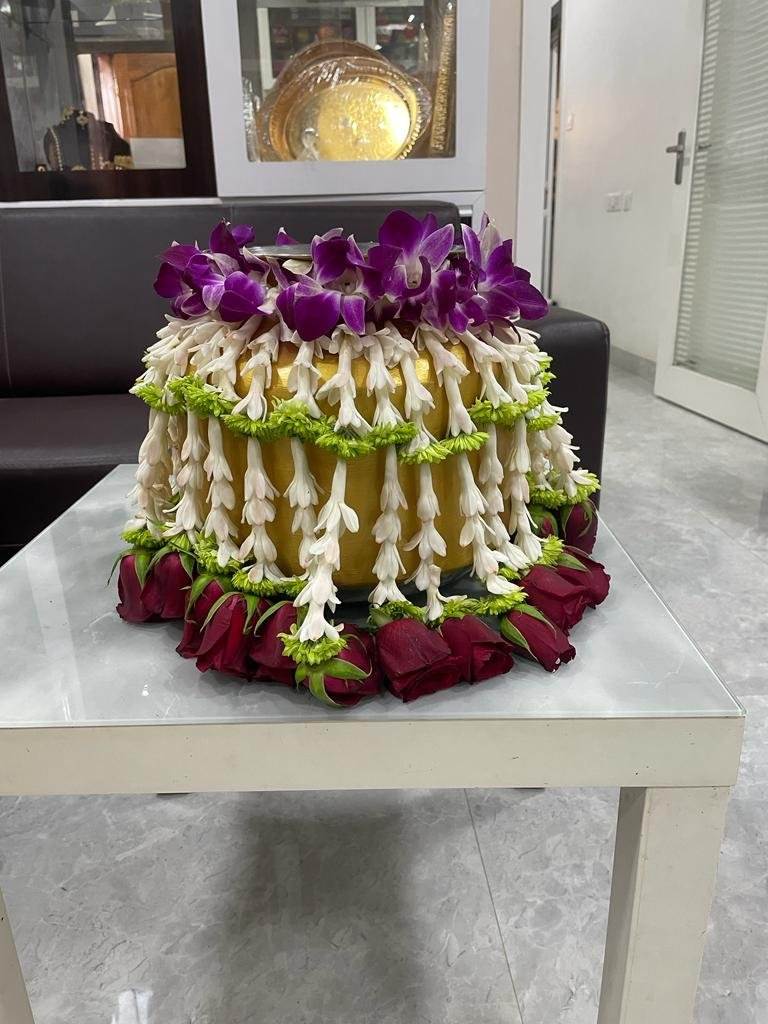 The ring-finding ritual is made even more romantic and memorable for the couple and their loved ones by this one-of-a-kind and stunning item, which incorporates the essence of nature's splendor.
Gold
This one-of-a-kind golden pot gives the event a sense of grandeur and contributes to the amazing experience that celebrates the splendor of their love story and the richness of Indian culture.
During the customary Indian ring-finding ceremony, this Bindi serves as a brilliant monument to love and dedication. This unique Bindi, which exudes a mesmerizing charm and is expertly made from dazzling gold, represents the depth of feelings the bride and husband have for one another.
Earthen Pot
This Bindi, made by hand with the highest care from clay obtained locally, honors the artistry of talented craftspeople who shape the pot into a captivating shape. It is a heartfelt centerpiece for the ceremony because of its earthy tones and raw texture, which mirror the simplicity and purity of love.
More than just a container, the earthen pot known as it becomes a physical representation of invention, love, and tradition. It adorns the ceremony and whispers the hope of a future characterized by the warmth of their love, the depth of their common ancestry, and the embracing of the dynamic environment in which they live.
Conclusion
Finally from the intricate Floral Designed Bindi to the opulent Gold Bindi, each variation carries its unique symbolism and significance. So what are you waiting for? Go through all these elegant designs and select the one that goes best for your ring-finding ceremony.
FAQ
Where can one find authentic and artistic Designer Ungarala Bindi?
Authentic and artistic Designer Bindis can be found in various places, including specialty stores, traditional markets, and online platforms. Check out our store if you want an authentic Bindi for your wedding functions.
Are Designer Ungarala Bindis customizable?
These Bindis can be customized according to individual preferences and requirements. Skilled artisans and designers often offer personalized options, allowing customers to choose specific patterns, colors, and materials to create a bespoke bindi that aligns perfectly with their unique style and the occasion.