The Basic bun with a simple gajra style for weddings is a thing of the past now! It's all about experimenting right now with various haircuts and flowers.
You've come to the correct place if you're a soon-to-be bride looking for ideas about the different flowers that can enhance your bridal hairstyles. On your D-day and other wedding ceremonies, you can accessorize your hair with some of the most lovely flowers for bridal hairstyle varieties from our collection. Check it out now without further delay.
Keep these things in mind while choosing flowers for your wedding day
It's vital to take the bride's dress' color and design, as well as the wedding's general theme, into account while selecting flowers for the bride's bridal hair. Instead of competing with these components, the flowers should enhance them.
To prevent them from coming out during the event, it is essential to make sure the flowers are securely fastened in the hair, either with bobby pins or floral wire. Flowers for bridal hair can symbolize various things in addition to just beautifying the hairstyle.
10 Types of Flowers For Your Bridal Hairstyle
Roses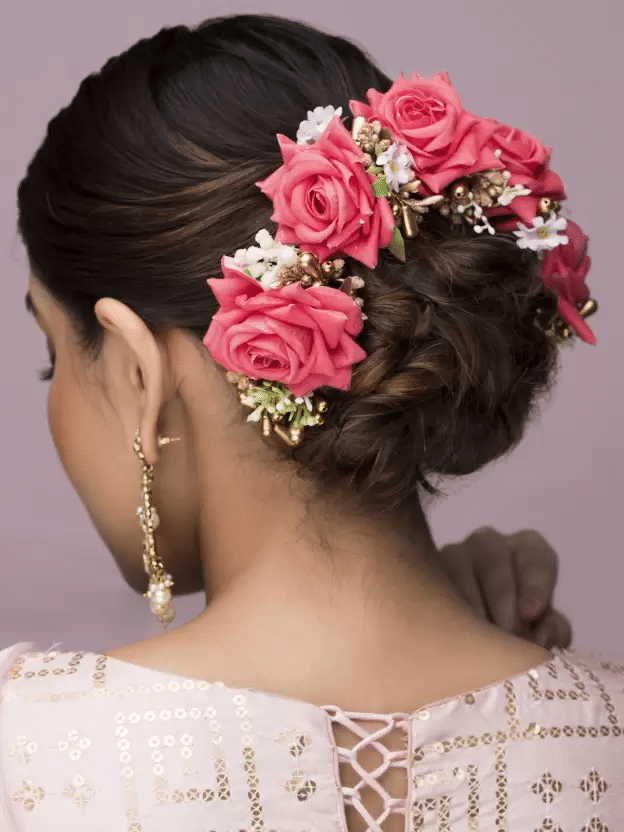 On your wedding day, roses, one of the most stunning, elegant, and widely accessible flowers, can quickly make you feel like a princess. Apart from their oh-so-dreamy scent, these everlasting classic blooms have many distinct color options, which is their best feature. This allows you the freedom to mix and match based on the color of your clothing or the style of makeup you've chosen.
Pansies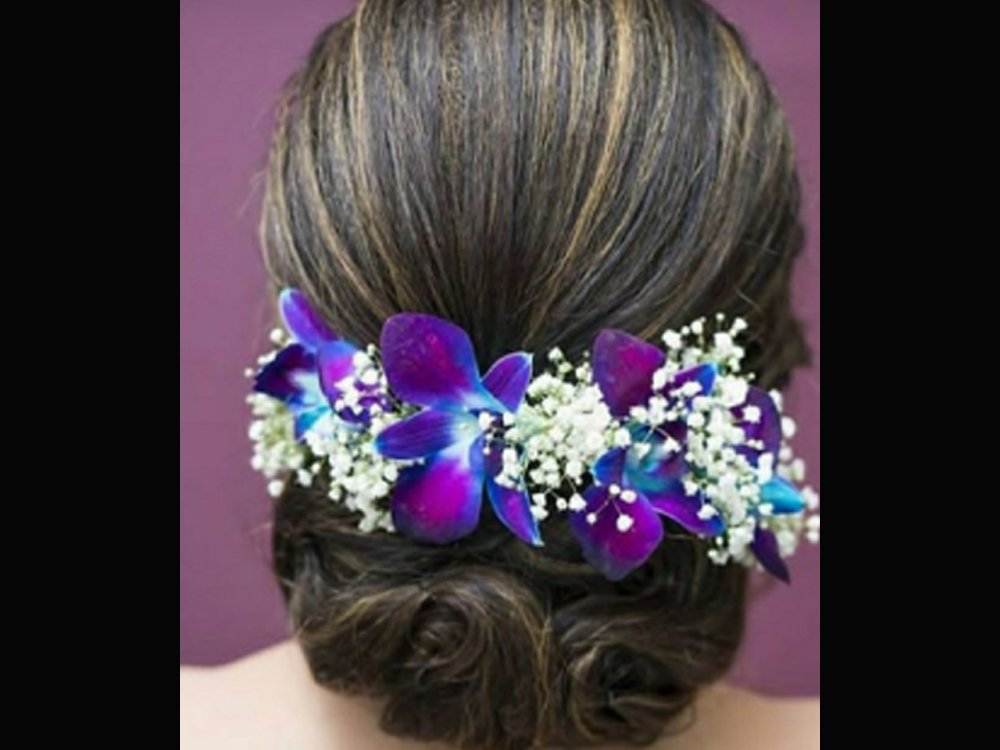 Without a doubt, one of the most beautiful flowers is the pansy. They are a great option for your sangeet, mehndi, or haldi look because they come in a number of vibrant colors like purple, fuchsia, magenta, and more. They are the perfect size to wear as accessories with braids and open hair because of their size.
Hydrangeas
Hydrangeas are the ideal flower for brides who adore flowers yet chose a demure, pastel-colored gown. They are the ideal accessory to wear with light-colored clothing because they are available in a number of pastel hues like baby pink, cream, lilac, and sky blue. Hydrangeas are the ideal choice if your wedding attire is a really dark tone and you want to balance your look with something more understated in your hair.
Jasmine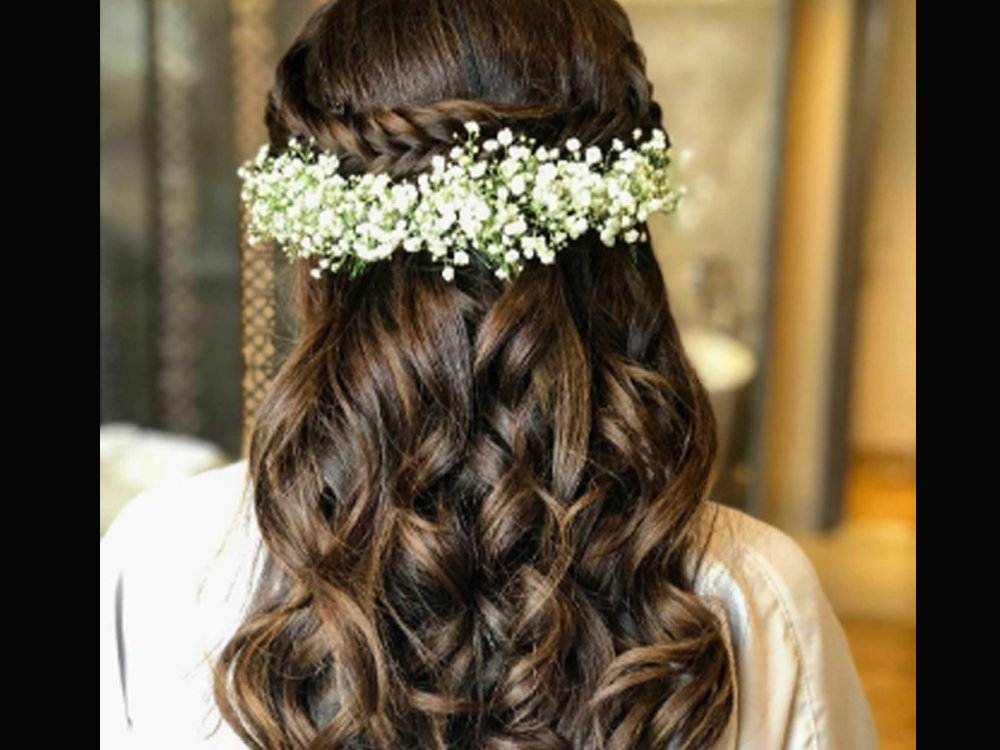 Without including mogra, a list of flowers for bridal hairstyles is incomplete! Nothing resembles the traditional gajra after all. Like this lovely bride over here, you can experiment with a jaali gajra to give your bridal look a hint of the old world. If you want a more conventional appearance, you may also wrap a garland of mogras around your braid or bun.
Orchids
When worn with pastel-colored attire, orchids look especially lovely added to bridal hairstyles. You can combine them with other blooms of your choice or choose an orchid string in various colors. Their petals typically have two colors, giving them a distinctive appearance. Orchids are large flowers, so rather than using the entire flower, brides typically choose to tie its petals around the bun.
Chrysanthemum
The Chrysanthemum is a flower that appears utterly stunning when placed on a wedding hairstyle and is the next type of flower for bridal hair that is popular among aspiring brides. This flower, which stands for joy and optimism, is ideal for your bridal bun or bridal braid hairdo. 
Carnations
The most elegant and stylish flowers you will ever see are carnations. The fact that these blooms come in such lovely hue variants is their best feature. These can be used to create an amazing ombre effect. You must try carnations if you don't want to use a bridal veil to cover your head.
Dahlias
Dahlias are stunning, showy blooms that come in a variety of hues, forms, and sizes. They come in a variety of sizes, from tiny pom-poms to flowers with a foot diameter. The bloom comes in a variety of colors, including white, pink, red, orange, yellow, and purple, and it can be solitary or double. A single bloom may occasionally come in a variety of hues. They can be found in quilled, circular, and pointed shapes. Dahlias' layered petals give them a rich, lush appearance. 
Lavenders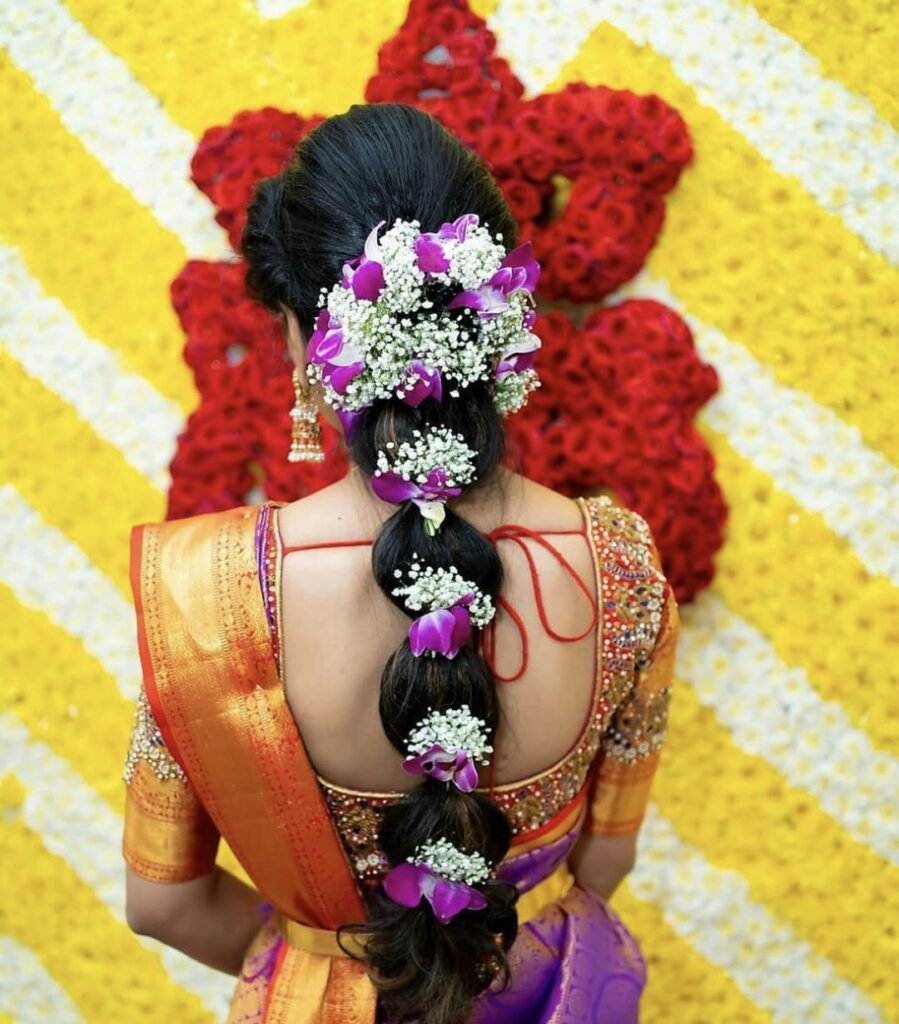 Lavenders are aromatic, lovely flowers with a calming scent. They produce tiny, delicate flowers that are typically lavender or pale purple, although they can also be pink or white. They can get up to 3 feet tall and 2 feet broad and grow in groups. They are a wonderful addition to bridal hair because of their calming aroma, which helps the wearer feel peaceful and relaxed. The combination of silver foliage and light purple flowers can give the bridal look a delicate, romantic touch. Lavender is a symbolic option for the wedding day because it has long been connected to love, dedication, and tranquility.
Anemones
Beautiful flowers called anemones can be found in the hues of white, red, blue, or purple. Due to their delicate nature, they are ideal for giving the bridal hairdo a whimsical and elegant touch. Their airy, light appearance can go well with a variety of wedding themes, from boho to traditional. Since anemones are a representation of eagerness and anticipation, they are a suitable option for a bridal hairdo. They offer significance to a wedding day outfit since they symbolize the anticipation and delight of fresh starts.
Final Words
Flowers have been a common choice for bridal hair for generations because of their ability to provide a sense of delicacy and beauty. Flowers can be used to make a hairstyle that fits your personality and complements your overall appearance. They are a cost-effective option to improve your wedding hair game.
FAQ
Can I use unconventional flowers, like tropical blooms, in my bridal hairstyle?
If you're looking to make a statement, tropical blooms like orchids, hibiscus, or bird of paradise flowers can be a fantastic choice. Their vibrant colors and unique shapes will add a touch of exotic elegance to your bridal hairstyle.
Are there any flowers that work best for a bohemian or rustic-themed wedding?
Yes, several flowers are perfect for achieving a bohemian or rustic vibe. Consider using wildflowers, such as daisies, sunflowers, chamomile, or cornflowers, to achieve a natural and carefree look in your bridal hairstyle. These flowers will add a whimsical and organic feel to your overall aesthetic.
Can I mix and match different flowers in my bridal hairstyle?
Mixing and matching different flowers can create a visually stunning and personalized bridal hairstyle. Experiment with various blooms, such as roses, peonies, dahlias, and anemones, to achieve a unique combination that compliments your dress and wedding theme. Just ensure that the colors and textures harmonize well together.