Weddings are wonderful because of the small cultural and traditional details. One such item at South Indian weddings is this flower braid. They say this is what transforms a normal little girl into a princess. These are available in a wide variety of styles, patterns, and hues.
One question that always comes to the mind of every bride is how to achieve the perfect Poola Jada look. Well, now you don't need to look any further. Today in this article we will tell you how to get this perfect look along with some famous types. 
So without any further delay let's start.
What is Poola Jada?
Jada means the braid, while Poola signifies flowers. It is a floral and metal mixture that is weaved together and then adorned on a bride-to-be's braid. The trend has developed into a full-fledged, only-florals kind of accessory among today's brides after beginning as jewelry designed in more of a temple style with a hint of flowers as complementing parts.
Notably, It is famous in the states of Andhra Pradesh, Tamil Nadu, Karnataka, and Kerala. It is not only considered to be an essential and sacred piece of jewelry to be worn by the bride-to-be during her wedding rites, but it also ups the glamorous factor of the overall appearance.
Significance of wearing this Braid
In South India, a long braid not only denotes beauty but also has a rich cultural history. The bride's braid is adorned with this look. It is a lucky habit as well as a hairstyle. Either the braid is knotted to this flower braid or it is sewed into it.
Flowers in the hair are seen as a sign of vanity and good fortune in South Indian culture. Originally, only jasmine blossoms were used to make these. Thus, it can be argued that the custom may have its roots in Ayurveda and traditional beauty practices. In the past, jasmine and other flowers were used to organically perfume hair, and it was thought that floral scents might soothe the mind.
How to get the perfect look
This braid plays a significant role in any bridal getup. Here are the steps by which you can get the perfect look.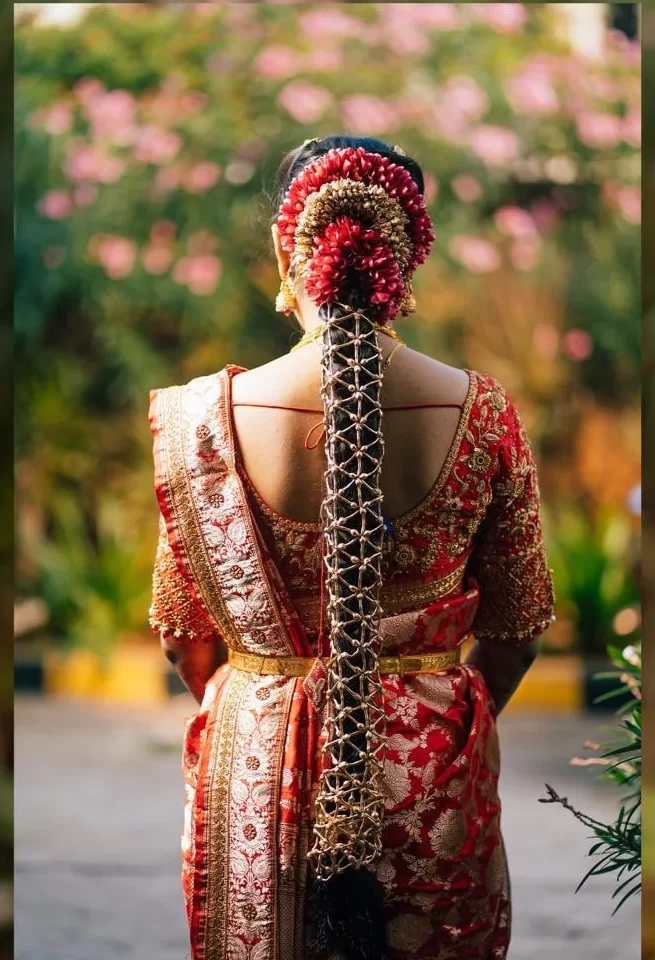 Clean and prepare your hair
Clean, prepped hair serves as the foundation for creating the ideal bun. To ensure that your hair is clear of any debris, oils, or residue, start by washing it with an appropriate shampoo and conditioner. To prevent unneeded frizz, gently pat your hair dry with a soft towel after washing.
Use a wide-tooth comb to gently detangle your hair, working your way up from the ends to the roots. This step is essential to laying a smooth foundation for the bun and ensuring that the final appearance is tidy and professional.
Create a high ponytail
Making the right high ponytail is the first step in creating the bun. Using your fingers, gather your hair into a neat, centralized bun at the crown of your head. A hair elastic should be used to hold the ponytail in place; it should be snug but not too tight to avoid irritation.
Its location and general elegance of the finished appearance are influenced by the ponytail's height. The elaborate bun has the ideal foundation, which is a well-done high ponytail. This allows the bun to lay smoothly and draw attention from all sides.
Attach the braid
Precise attachment is necessary to give your hairdo the attractive appeal of a bun. Place the elegant hairpiece delicately over the top of the high ponytail, carefully aligning it for symmetry. It should be pinned down with extreme caution in order to keep it firmly in place. This process not only incorporates the traditional significance of the item but also creates the bun's focal point.
The attachment procedure necessitates close attention to detail because the placement of the hairpiece affects the overall harmony and appeal of the finished appearance, fusing tradition and elegance into one elegant ensemble.
Try different designs using flowers
You can experiment with different flower designs to make your bun even more distinctive. Pick vibrant blooms that complement your style and what you prefer to wear. Place lone flowers or small clusters of flowers first, as this gives the bun a more natural appearance.
Making a lovely floral chain and wrapping it around the bottom of the bun is another option to give it a nice, romantic atmosphere. A large, striking flower can be placed in the bun's center to complete it. By using a variety of flowers, you may add a new twist to your regular bun and have fun with your appearance.
Maintain the look
To make sure your bun stays nice all day, here's what you can do. If you see any hair sticking out, use bobby pins to gently put them back in place. If some hair is being tricky, you can use hairspray to help keep it in line. Be careful not to mess up the bun when you touch it too much.
If you need to fix anything, bring a small mirror and extra bobby pins with you. Just remember, the bun looks best when it's neat, so a little touch-up here and there will help you keep that lovely traditional look.
Some famous types of these buns
Bubble Braid with flowers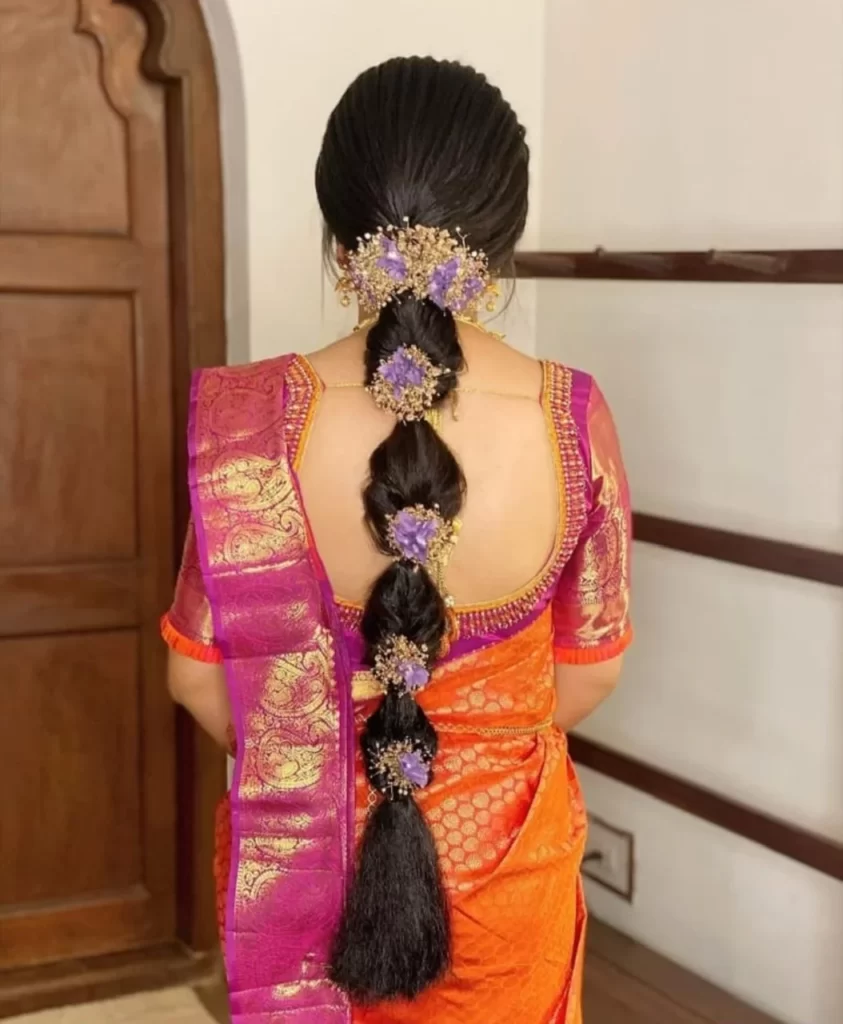 If you want to pull this off, you'll need a lot of rubber bands because it's a little tricky. You can rely on it to have a stunning and distinctive appearance. And one day, you'll be the bride who married her spouse after making a different decision. So go ahead and give it a shot, and if you want to make your hairstyle appear heavier, add roses or tiny velveteen flowers.
Minimal Jada and Jewellery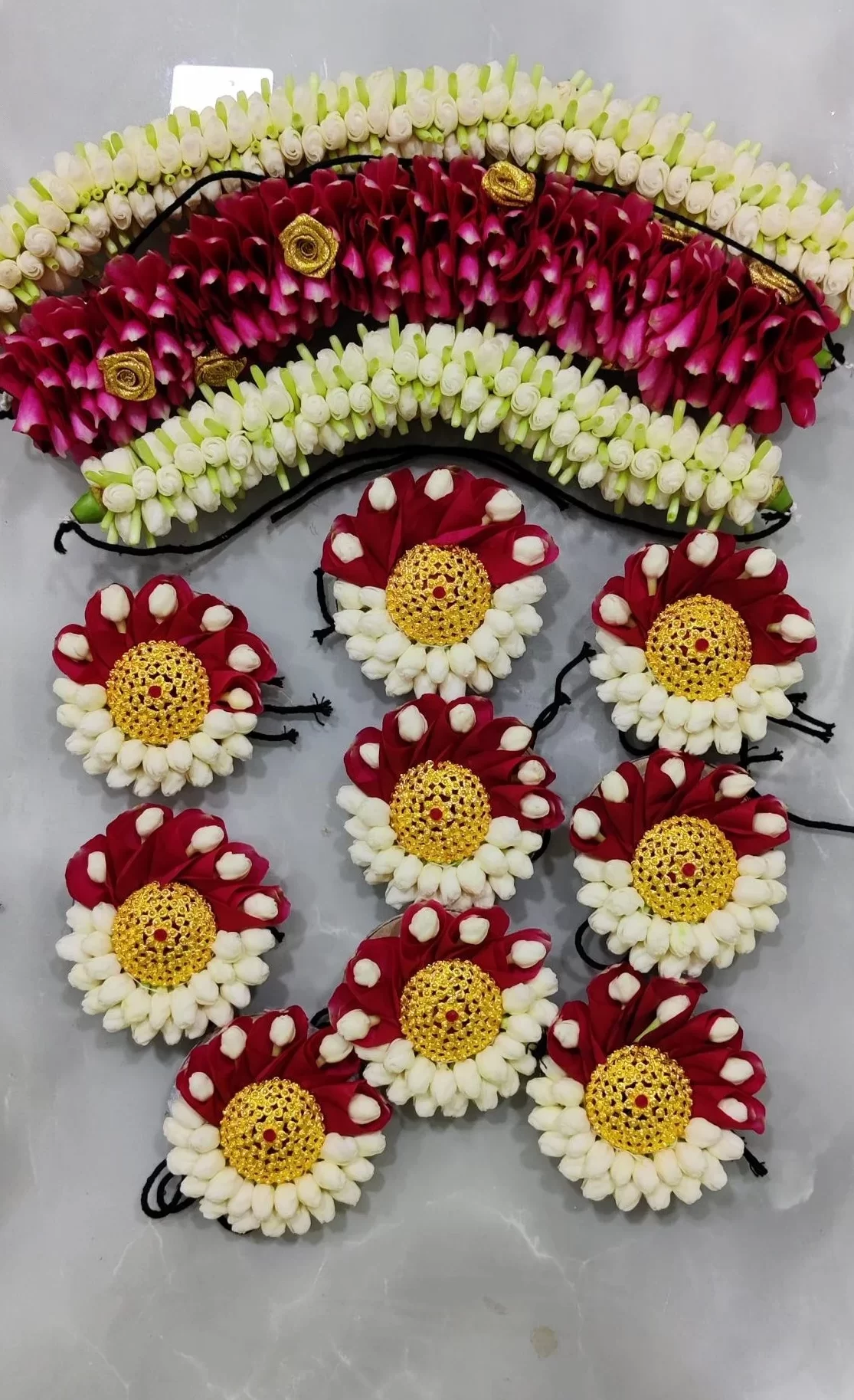 These are ideal brides who prefer to keep things simple with a trendy twist. It may also be used for braids, which is good news for those who enjoy jewelry. The hair accessories add appeal to the complete look. Place the jewelry on your braid and quickly turn and twist it. Don't be afraid to accessorize your hair with heavy jewelry that compliments your outfit, such as a long necklace or a set of big earrings. By doing this, you are also repurposing your jewelry in a fashionable way.
Flower Adorned Jada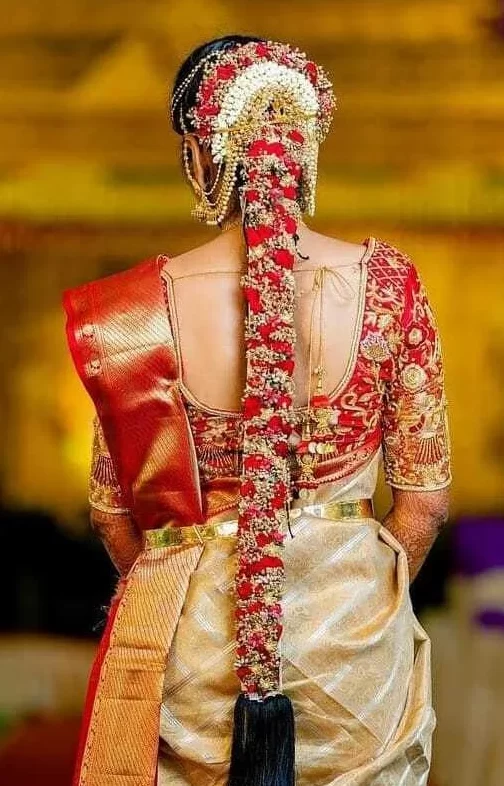 This is for modern brides who value tradition but do not want a Jada with a lot of flower embellishment. To give it a modern air while still respecting tradition, make a simple or twisted braid and add a row of tiny flowers or baby's breath to the ends.
Jewelry Adorned Jada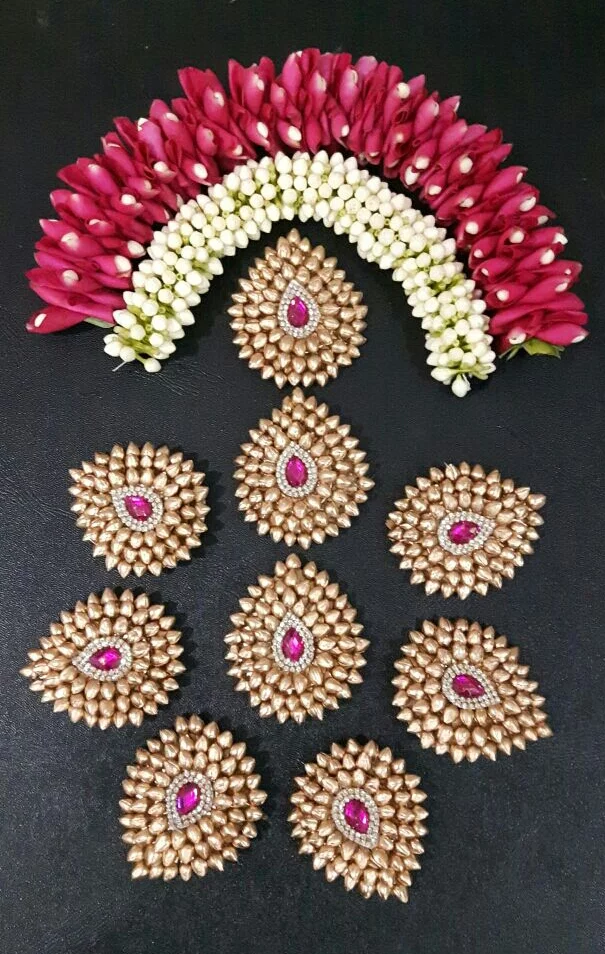 If you don't want to go too far with your ponytail, create a simple or twisted high or low ponytail and tie it with some jewelry. You can buy wearable hair accessories, or you can accessorize your ponytail with a long, hefty necklace or a choker necklace.
Conclusion
You don't have to work particularly hard to grow your hair organically in order to wear a flower braid. It effectively enhances the bride-to-be's look by incorporating a harmonic fusion of tradition and style. Now that you know what it is all about, plan it for customizing for your own wedding.
FAQ
Can I create a Poola Jada bun with short hair?
While the traditional bun is typically created with longer hair, you can still achieve a similar look with short hair. Use hair extensions or padding to add volume and length, and adapt the style to suit your hair's texture and length.
What types of flowers are best for adorning this bun?
Opt for flowers like jasmine, roses, marigolds, and orchids, as they are commonly used in South Indian hairstyles. Choose flowers that complement your outfit and skin tone, and ensure they are securely attached to the bun using hairpins.
Can I personalize this bun to suit a modern look?
While the traditional look is beautiful, you can add your own twist. Experiment with different flower arrangements, bun sizes, and accessories to create a fusion of traditional and contemporary styles that reflect your personality.